The 2020 Year Review From HR Perspective: The Year Of Changes, Digital Acceleration, and Remote Work
Nine months into the pandemic, the future still seems uncertain, but there is a light at the end of the tunnel in the form of long-awaited vaccination. Even though we would love to say that we survived the worst, it might be too soon to tell. However, we did go through enough challenges to have extensive material that makes 2020 unforgettable.
Regardless of how difficult it was, last year changed our lives permanently. Nothing will ever be the same, and we choose whether we perceive it as a defeat or a chance to strive toward a better world.
HR felt the impact of the coronavirus pandemic immediately. The restrictive measures and social distancing forced almost every organization to shift to remote work. Most of them didn't have teleworking policies and teams ready. Both employers and employees had to adapt quickly and ensure that businesses stay afloat.
The way companies responded to the aftermaths of COVID-19 influenced workplaces, productivity, and revenues. But that response shaped the story every leader and employee will tell about their 2020 in the years to come.
There wasn't an ideal answer, method, or approach. Every organization and worker did the best they knew in those challenging moments. Yet, every action humans took in 2020 caused a tsunami of change. New trends, strategies, and focuses emerged, forever transforming the HR industry.

Highlights and 2020 Year Review from an HR Perspective
Human resource management is the area where people, who carry out the recruitment process and then deal with the organization employees in order to maintain their productivity and positive environment. But the whole process has become a hassle from the year 2020, i.e., after the outbreak of a pandemic.
The experience of the HR team is worth knowing for future safety and major steps that the upcoming HR team should take. And, being the reason we came with this article, the review of 2020 from the HR perspective.
Let's see what are the points that come under the book of HR perspective.
#1: Work from home and remote recruitment
Despite how weary you must be from hearing about telework, it is impossible to talk about 2020 without mentioning remote work. Even though this form of work isn't a novelty of the post-pandemic world, COVID-19 did double the number of teleworkers. Moreover, up to 30 per cent of workers will continue working from home throughout 2021.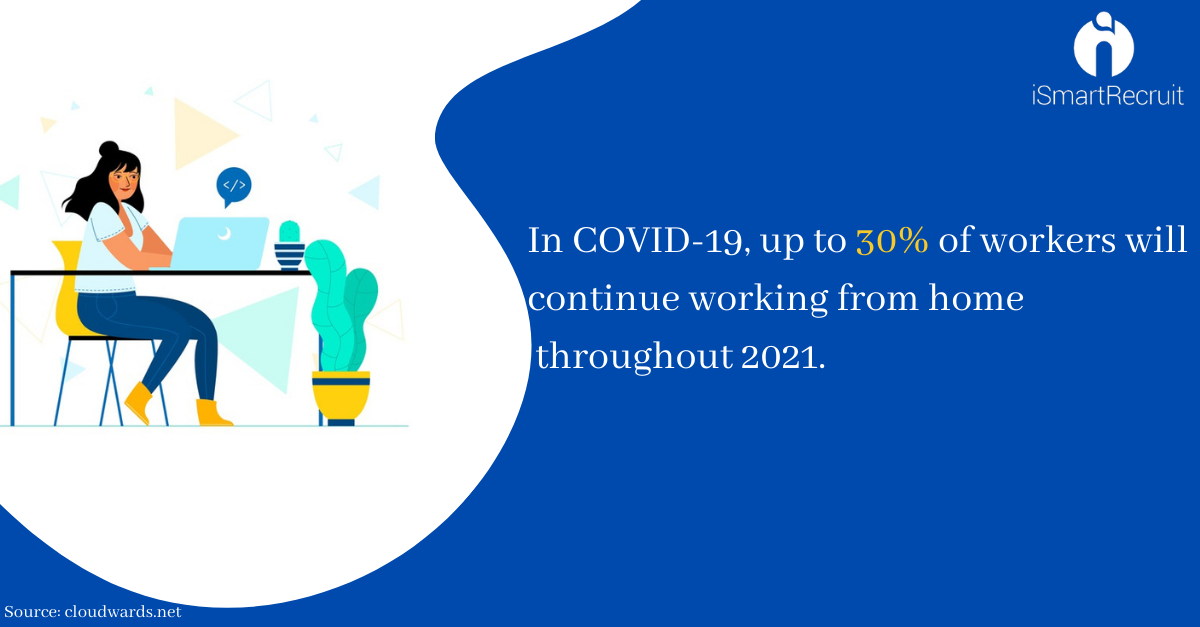 It is what makes remote work more than a highlight. Telework is the future, whether people will work from home full-time or a few days per week. Employees will have to adjust to the new realm where virtual offices, meetings, and gatherings are the norm. 
We must prepare that even once every person gets a vaccine, people will still be reluctant to be in physical spaces with other people. Hence, remote work will persevere and become one of the traditional forms of the workplace. 
Besides, most people want to continue working from home even after the pandemic is a matter of the past. Due to the countless benefits it has, telework cemented its position, becoming the preferred work environment. It is why it's hard to believe that we're ever going back to how it used to be. Many people were exhausted from spending many hours commuting to sit around eight hours in a cubicle.

Things about work from home
1. As work from home continues, so does remote recruiting. Gone are the days when a selection process included job fairs, in-person interviews, and office employee onboarding only. Although these traditional recruitment strategies aren't gone, recruiters will mostly find virtual hiring time and cost-saving. 
2. Remote recruiting relies on technology, which has countless benefits for a company and candidates. Recruiters don't have to engage in expensive face-to-face job fairs because that includes developing professional booths and employee people to represent a company throughout the event. 
3. Thus, they would have to create and share applications for potential employers. In the post-COVID-19 world, that's online, and the fee one has to pay to participate in a digital job fair is small compared to the money needed for its on-site version. 
4. Digital hiring also alleviates administrative issues as recruiters get to source candidates online, there are no expensive ads, and the bulk of resumes to go through. Overall, there's less papyrology throughout the process because it all happens online: from job applications to onboarding.
#2: The technological 7 years jump into the future
Technology became one of the most significant elements of HR and recruiting itself in the last few years. After employers realized the potential of tech to improve their businesses, they started purchasing recruiting systems. These systems are slowly taking over human resources.
For instance, Grand View Research found that the size of core HR software is projected to increase seven per cent from 2017 to 2025.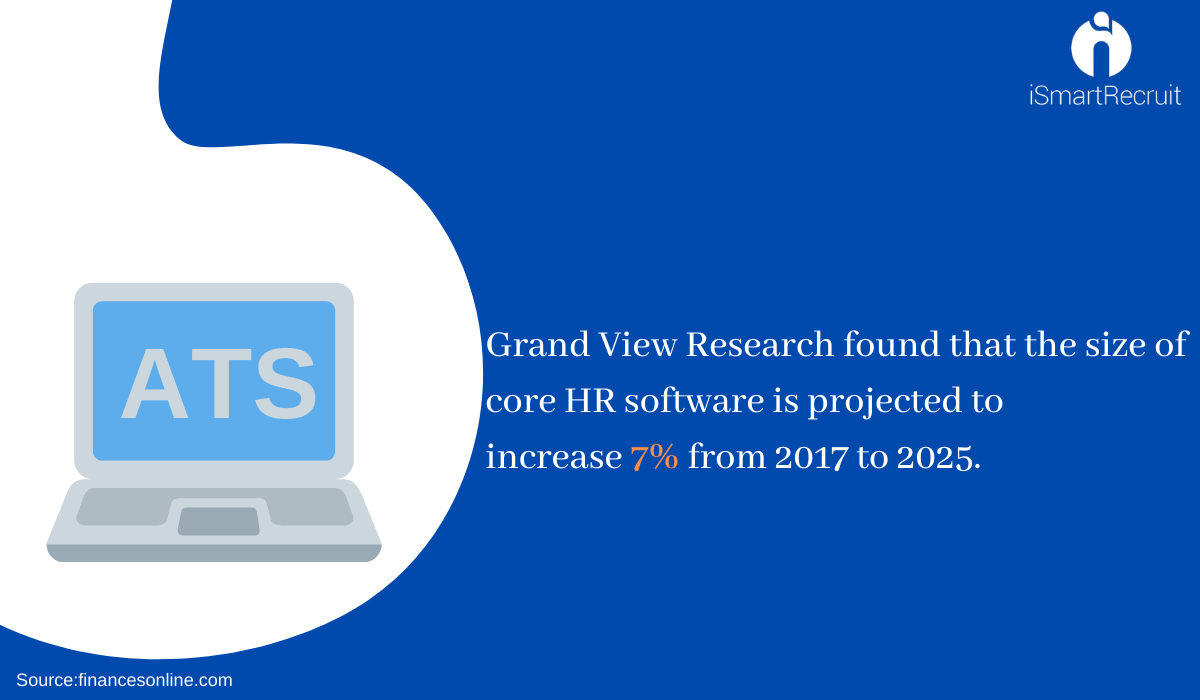 HR technology proves to be essential in making the hiring process more effective, fast, and successful. It shortens the pursuit of an ideal candidate by parsing resumes, using chatbots, keeping candidates engaged, and identifying the most qualified job applicants.
It is why many global organizations use an Automated Applicant Tracking System (ATS) and recruiting software to speed-up their processes and detect candidates that align with their requirements and values.
Digital HR technology gained popularity even before COVID-19, but now when so many people telework, it is required. Thus, 54 per cent of HR leaders say that poor or obsolete technology and infrastructure are the principal reason organizations can't perform effectively working from home.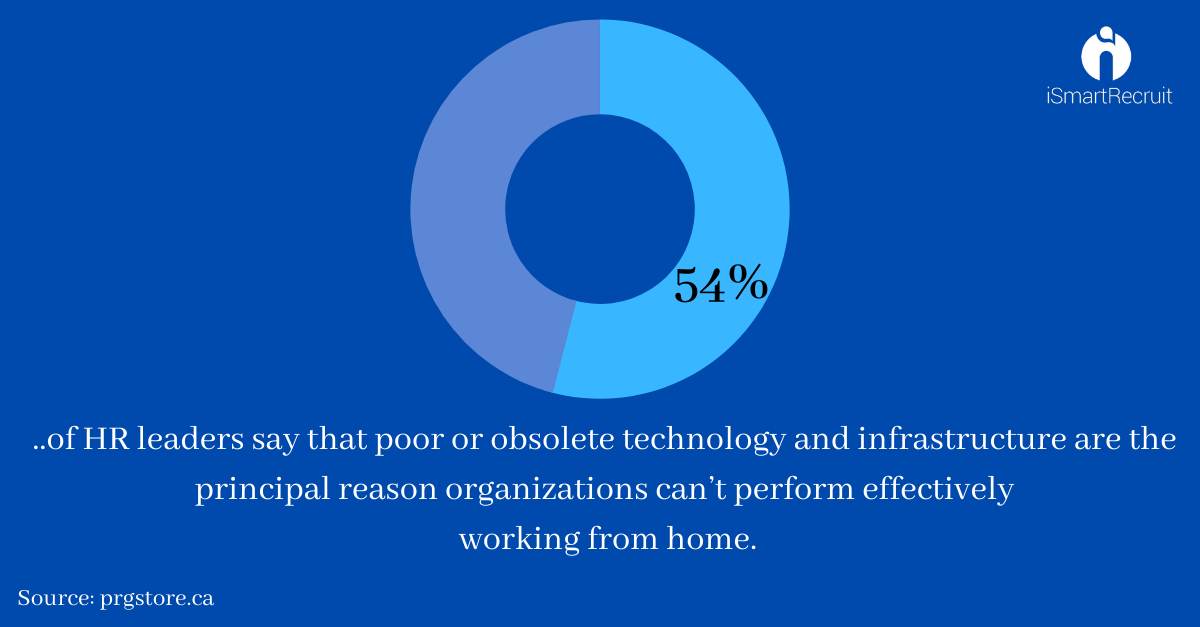 Technology started merging with human resources in the previous decade, and we knew that would only increase. But we didn't expect it will happen that fast. The future arrived early.
A 2020 McKinsey Global Survey of executives uncovered that embracing digital technology accelerated by seven years. Hence, 80 per cent of companies interact digitally with their consumers in the post-pandemic realm.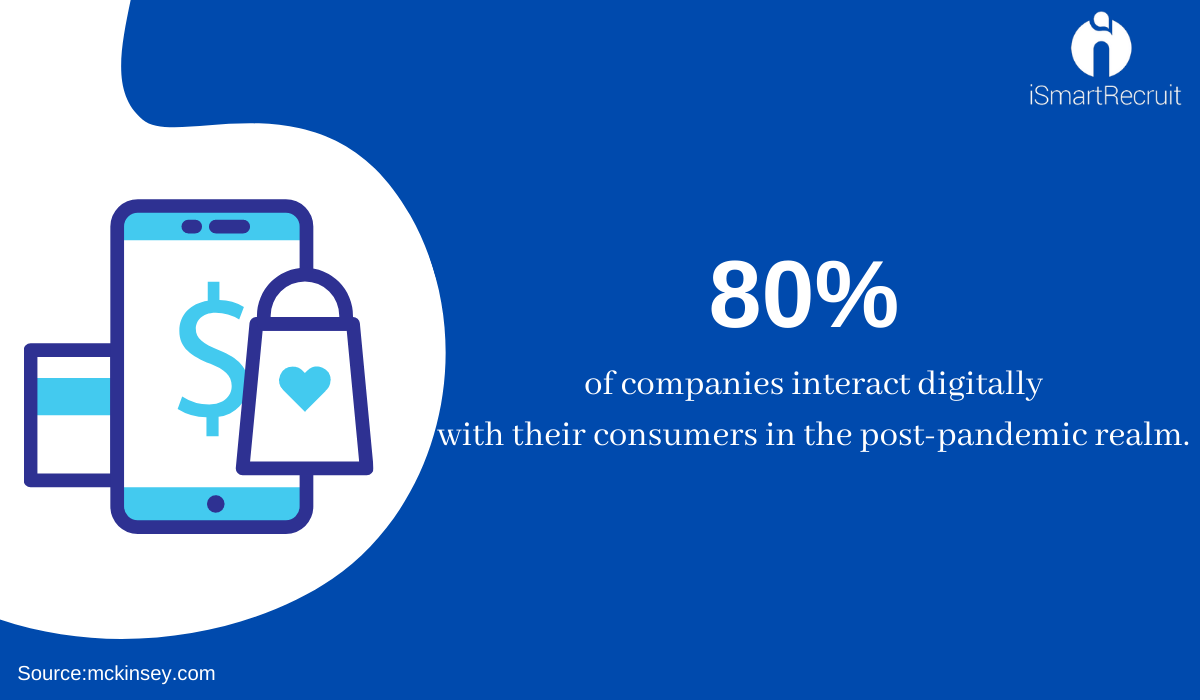 The year 2020 in review shows that we live in the decade of technology, and its presence is widespread, entering every part of our lives, including workplaces. Small businesses and global enterprises will likely increasingly adopt digital technology to streamline hiring processes and practices.
#3: Hybrid workplaces enter the HR landscape
The changes don't stop with telework. Instead, it was only the introduction to hybrid models of work because not every employee is satisfied with working solely remotely or at the office. Many workers want to spend at least a few days per week in physical spaces, engaging in face-to-face communication with their colleagues.
However, employees also don't want to go back to working full-time in the offices.
A recent survey found that 82 per cent of employers believe their workers will work from home and in the company. Therefore, recruiters will have to find a way to implement a mix of traditional and virtual strategies in the recruiting process.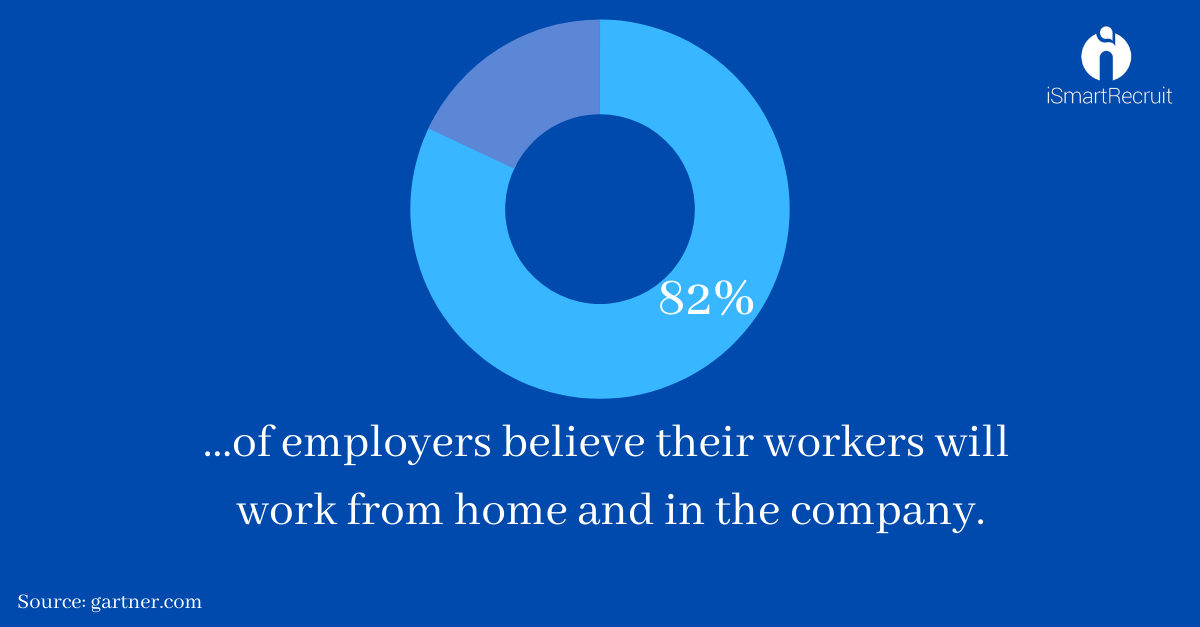 It is why in 2020, many companies announced a shift to hybrid workplaces. That requires the same approach from recruiters: hybrid hiring. And indeed, HR is getting ready to merge in-person and digital recruiting.
As a result, companies will have to re-evaluate their practices and whether their recruitment strategies need tweaking to align with hybrid hiring. They will also have to re-assess their talent acquisition methods and ensure that it's efficient in both recruitment forms. 
The future will probably introduce hybrid recruiting to workplaces globally, and recruiters will aim to reconcile their face-to-face and virtual hiring strategies, such as job fairs, in-person interviews, chatbots, video onboarding, and the use of different tech systems.
#4: Employee well-being became just as significant as revenues
The pandemic has shown us we are more vulnerable than we think, and a catastrophe can happen at any point. It also reminded us how crucial every life is. That was a wake-up call for employers who, in many cases, put the finances, net income, and increasing productivity at the forefront of business essentials.
But without employees, there's no company. And if workers are sick, unhappy, or depressed, that will affect their productivity and, in the process, the organization's objectives. There was no more place for putting financial goals to the focal point instead of employees' well-being.

As they battled coronavirus, leaders noticed their employees go through the same, which influenced their work. It is what made wellness and well-being programs a hot-topic in 2020. Recruiters and hiring managers had to quickly identify how to develop and implement procedures and methods that protect workers and their health.
Employee well-being became more than a trend. It turned into a must that every company that cares about its workers and the future will have to build and ensure it's making an impact. But we are still in the clutches of COVID-19, uncertainty didn't minimize, and health is one of the principal concerns. Hence, it's safe to assume well-being programs will become more diverse and widespread in the future.

According to HR Perspective: 2020 is The Year of Continuous Challenges
Even though it's February of 2021, it feels like a reprisal of the previous year. It is because the last one was that intense, at some points heartbreaking, and undoubtedly challenging.
We experienced changes that happen once in a lifetime and go down in history. The pandemic of COVID-19, societal upheavals, and social distancing marked every aspect of our lives. That triggered a shift to remote work, digital acceleration, and focusing on employee well-being, the HR highlights of the last year.
The 2020 year in review reminds us that tumultuous times often arise ground-breaking changes, and they always test our limits. HR industry proved to be flexible, agile, and resourceful in addressing the pandemic. That incites hope that in 2021, the year we hope to be more bright, we can see all the benefits of that challenging response.