Talent acquisition is one of the methods of recruiting and hiring new talent for the organization. And growing is the most crucial element of the hiring process. If you are unaware of the term talent acquisition, then must read this blog to know the Meaning of Talent Acquisition along with the Process & Strategies.
 This blog has the answer to all your questions, such as:
What is talent acquisition?
What is the process of talent acquisition?
What is the difference between talent acquisition and recruitment? Talent Acquisition VS Recruitment
What are the different talent acquisition strategies? 
Recruitment is made of a multitude of mechanisms, each having an essential function that ensures that you can accomplish your recruiting goals.
Talent acquisition is one of those methods, and it requires the united work of recruiters, hiring managers, and HR professionals. But what is talent acquisition?

What is Talent Acquisition?
The definition of talent acquisition is quite confusing but let's make it easy for you.
Talent acquisition (TA) represents efforts to find the most compatible candidate for the job position. It usually falls under the human resources (HR) field or umbrella, and the process contains five steps. The principal phases of talent acquisition are sourcing, attracting, interviewing, recruiting, and conducting employee onboarding.

There is a team of skilled employees behind talent acquisition plan, and they combine their knowledge and expertise to identify and acquire talents whose abilities and vision align with the organizational needs. Besides finding the best match, their goals are also to identify gaps within a company and fill those vacancies while being economical with time and finances.
Vital elements of talent acquisition are creating a sourcing strategy, handling candidate assessment, and taking care of compliance and recruiting standards. Thus, talent acquisition team members need to be aware of employment branding practices and have insights into corporate recruiting initiatives.
What Makes a Good Member of Talent Acquisition Team?
The team mostly relies on recruiters and their expertise, but not everyone can be a well-performing talent acquisition member. The recruiters participating in the talent acquisition process must have exquisite soft skills and be people. They should be comfortable with persons of different backgrounds to be able to recognize marvellous and matching talents. Hence, they should nourish and maintain relationships, and those across the workplace and different industries matter the most.
Persons who find this role pleasant are also those who can think out of the box and see the big picture. That ability allows them to comprehend what their organization needs on all levels. They are knowledgeable about the methods they need to reach those insights, and they know how to perform them. By identifying the company's needs, they know what to seek and how to answer those requirements.

Although it's not a requirement, it's recommendable or at least helpful to have a background in sales because their ultimate objective is to sell jobs to the best talents. Besides, they also need to sell those job applicants to the stakeholders.
There is another nice-to-have quality that can help recruiters achieve the highest levels of performance within a talent acquisition team. These talent acquisition recruiters should have the capacity to think like hunters because they need to scavenge on the highest quality talents and be unstoppable in their hunt.
What's the Difference Between Talent Acquisition and Recruitment?

[Talent Acquisition VS Recruitment]
Most people outside HR departments find it challenging to draw a clear difference between these two, talent acquisition VS recruitment. After all, they have the same goal - to place people in open vacancies. Despite the overlaps, the difference is sharper than people usually assume.
Hiring managers focus on addressing the short-term needs of the organization, and they fill open positions. That means that the goal of job recruiting is temporary work requirements. On the other side, talent acquisition teams concentrate on long-term HR planning and talent acquisition best practices. For that, they have to develop and use an ongoing strategy that allows them to identify talents that can have a crucial role in the future success of the organization.
Therefore, they determine specialists, leaders, and CEOs that require extensive and specialized training, which is a high-responsibility task.
6-Step Talent Acquisition Process
If the difference between talent acquisition and job recruiting lies within the strategic side, what makes its process unique? The steps are not drastically different compared to job recruiting, and they can last for several months. These are the phases of the talent acquisition process.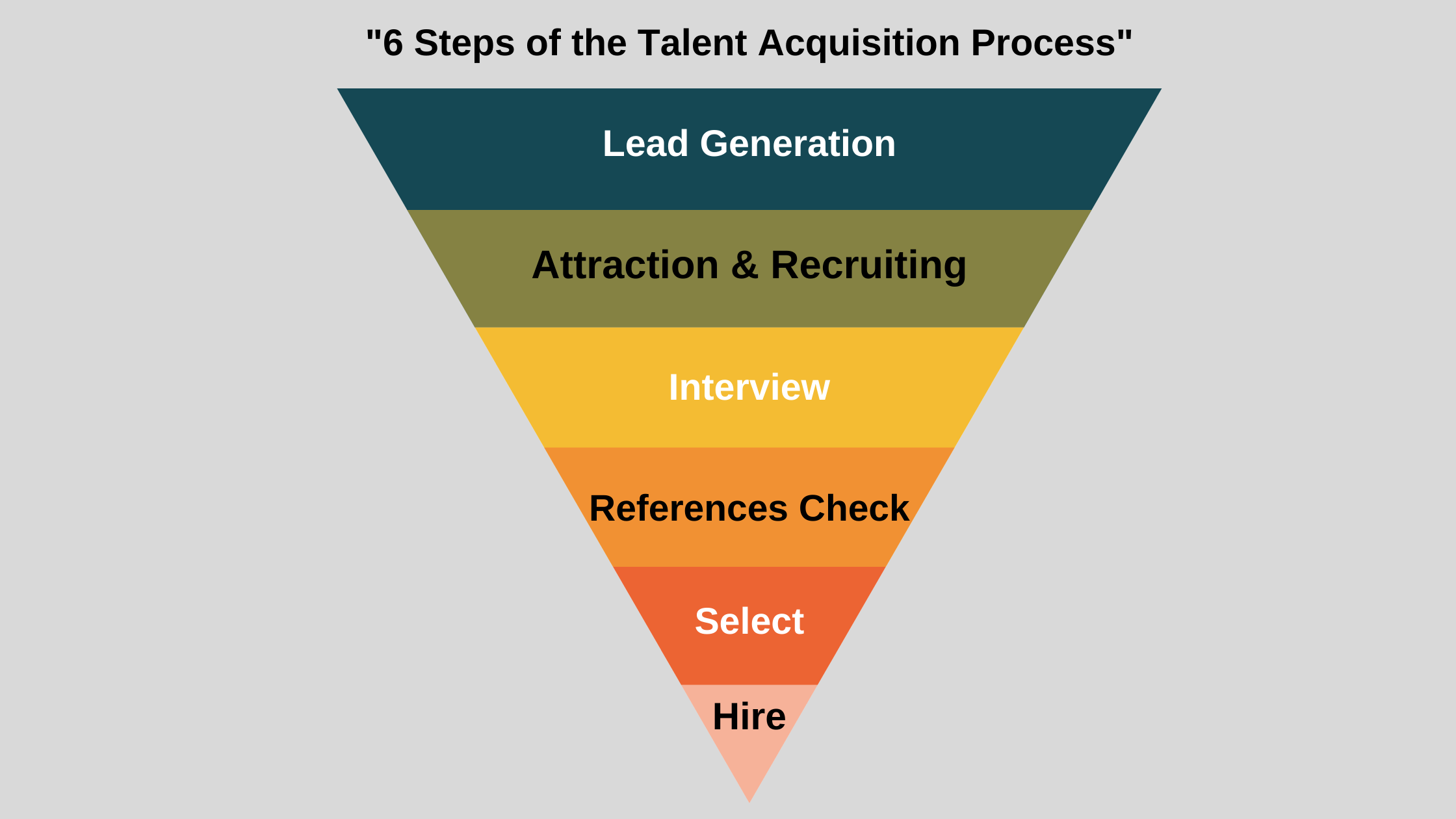 Step #1: Lead generation
The process starts with a compelling job advert and detecting all the places where specialists in a particular industry gather. Hence, talent acquisition team members need to target suitable social networks, industry conferences, events, communities, and forums. That's where they can reach fitting talents and grow connections. By doing so, they are generating a talent pool and candidate pipeline of top-notch candidates.
Step #2: Attraction and recruiting
Developing a strong organizational brand and culture and promoting it are the main components of attraction and retention. Thus, they need to ensure an engaging candidate experience and keep in touch with those who might not be a fit at the moment but can be perfect in the future.
Step #3: Interview and assessment
It's essential to determine prerequisite skills and qualities, but also the principal indicators of a successful performance. The pre-employment assessment stage helps you remove the application of unsuitable candidates from the very beginning. The next step is to build interview questions around these insights or use alternative tools of candidate assessment, such as a skills test or a demonstrated pitch.
Step #4: References checks
A reference check is a process of verifying the history of the candidate by contacting his/her previous employer and colleagues. Although many recruiters skip this step, it can be helpful to check whether there are any concerns or novel impressions.But always remember before conducting the process of reference checks list out all your needed questions and which answer you are seeking.
Step #5: Final selection
The essential step is to evaluate the candidates and select the best one. Many use tracking or talent acquisition software for this phase to alleviate the process of time-consuming activities.
Step #6: Hiring and onboarding
These two practices are often done by someone else, but they are the climax of recruiting the best candidates. It's crucial to provide new employees with seamless onboarding because that can have a direct effect on retention rates.
What are Different Talent Acquisition Strategies?
We have talked about the talent acquisition meaning and its steps, and also how talent acquisition is different from recruitment. Now it's time to know different talent acquisition strategies that help them to grow faster.
Every activity that has a goal to obtain the best results demands a good strategy. These are the top four talent acquisition strategies.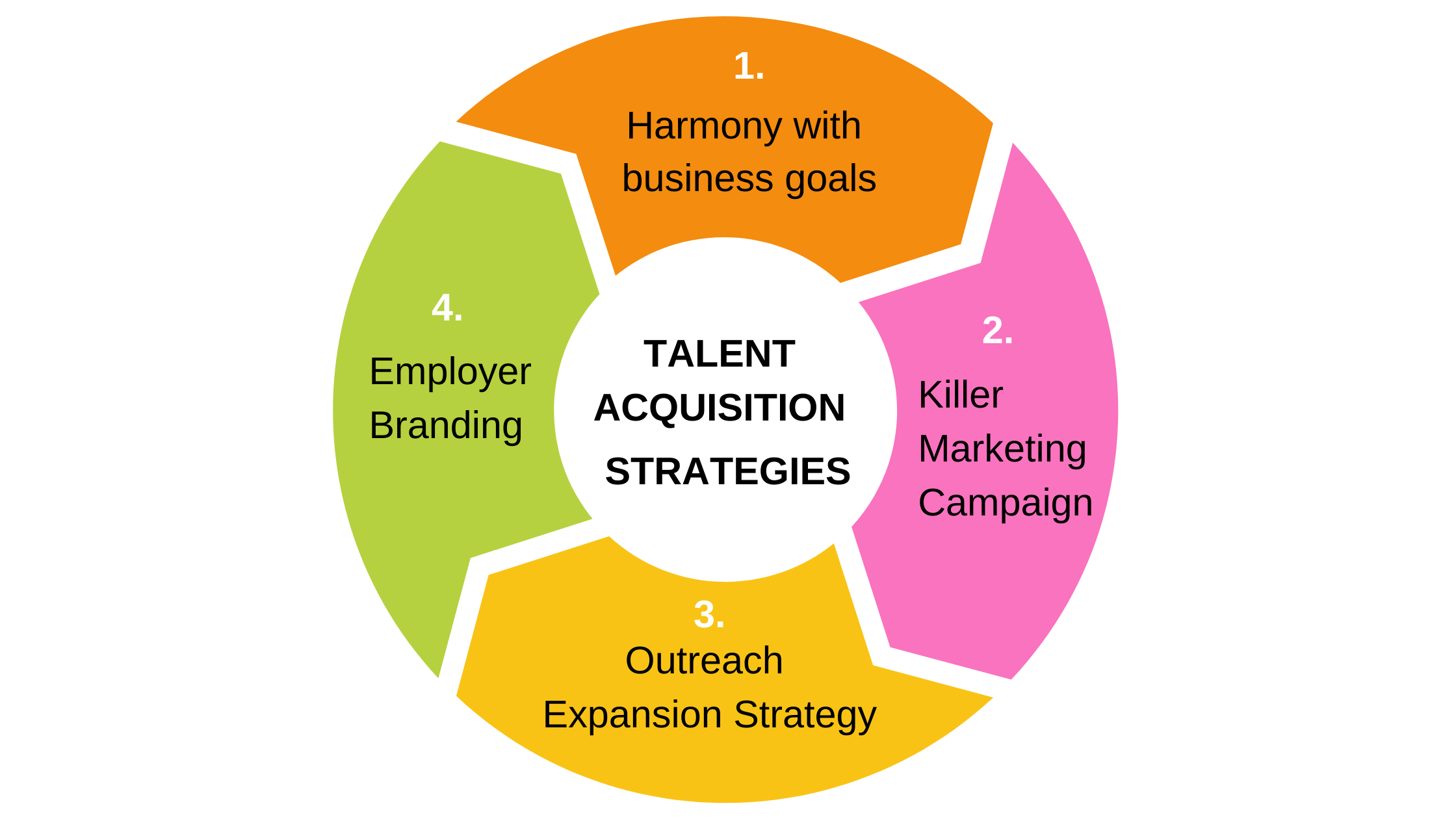 Talent Acquisition Strategy #1: Harmony with business goals
It's crucial to consider and determine business goals for the next five (or even one) years and to tailor the strategy to those requirements. Not only determine the goals but also measure the outcomes and according to the result, you should fix the upcoming goals.
Talent Acquisition Strategy #2: Killer marketing campaign
Promotion and marketing are inevitable elements of any hiring process, and talent acquisition is no different. Therefore, talent acquisition teams need to use their data and insights to interact with the candidates and present their company's culture to attract job applicants.
Talent Acquisition Strategy #3: Outreach expansion strategy
Recruiters need to determine where they can find their perfect candidates and identify diverse methods of outreach. For example, specialized job boards, fitting networking events, or academic programs.
Talent Acquisition Strategy #4: Employer branding 
How an organization presents its unique selling proposition and brand will have a great impact on reaching and retaining remarkable candidates.
Employer branding is the organization's goodwill in the market as an employer. This influences and creates a great impact on job seekers and also on stakeholders and employees. 
In this fast phase if you want to achieve terrified talent acquisition growth and want to attract A-grade candidates then prioritize the employer branding. 
Talent Acquisition: The Closing Lines
Talent acquisition is one of the crucial departments of every business. The initial step that you should follow before implementing talent acquisition strategies is understanding talent acquisition. Moreover, while handling the process of talent acquisition in-house, the human resource department is a core driver to manage the whole approach. Thus, they should focus on the outcomes of the process by examining each phase of TA.