Unlocking Excellence: How HitContract Elevated Hiring Quality by 38%.
How HitContract Elevated Hiring Quality by 38%.

Get Matching Profile using
Artificial Intelligence (AI)

Profile Matching is a very important aspect when you receive any application from the website and when you are searching for the best matching candidate from the candidate database. Our AI-based technology calculates the matching score and helps you to process the right candidate in the least time.
Applicant Matching Score
Resume screening is still the most time-consuming process of recruitment. When we promote jobs on different channels and receive 100+ resumes, but 75% of them are unqualified. The time spent on screening resumes often takes up the largest portion of time-to-fill. In today's competitive candidate-driven talent market, top talent stays on the market for a short time.
The resume match score (0% to 100%) is based on how well your resume matches up with the job description you selected. Your match rate is based on your skills and many other criteria. The System automatically fetches the skills from your resume and try to match them with the skills of the job description. Therefore, the recruiter can easily decide on the candidate whether he/she is the right fit for the job or not.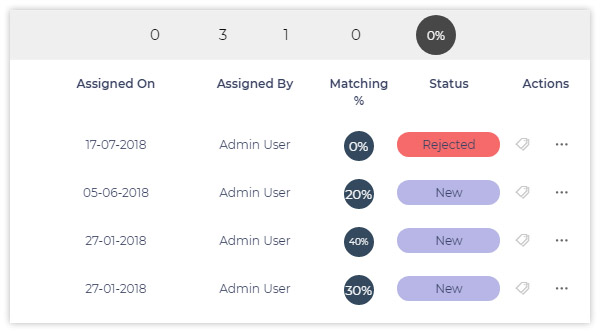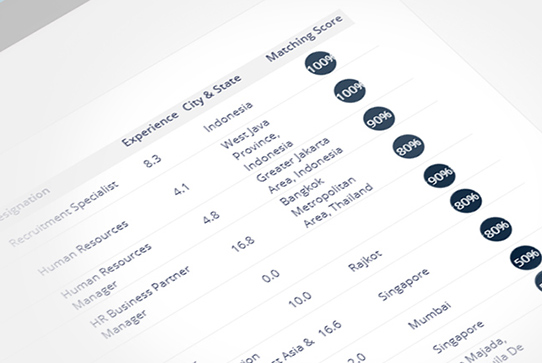 Search for Best Matching Profile
When applying AI techniques we can reduce the efforts in recruiting and improve the accuracy in selecting candidates. Our AI algorithm can analyse the job description, tokenize the keywords and then analyse each candidate's profile to match the skills, job title, experience, location, qualification, etc. with the tokenized words in the job description. This reduces the burden of the recruiter as they don't have to spend too much time analysing hundreds of resumes.
Searching for matching jobs
Just like matching candidates, you can also search for matching jobs for a particular candidate. This search will show you the results based on the skills candidate has or some other important stuff like location, experience, etc.
That will make a recruiter's work easy while assigning the candidates to the job. You can also configure some settings by using AND and OR functions on different criteria such as skills, location, experience, and qualification.