Unlocking Excellence: How HitContract Elevated Hiring Quality by 38%.
How HitContract Elevated Hiring Quality by 38%.

How Systemart Reduces 57% Time-to-hire & 49% Cost-per-hire by Using iSmartRecruit ATS?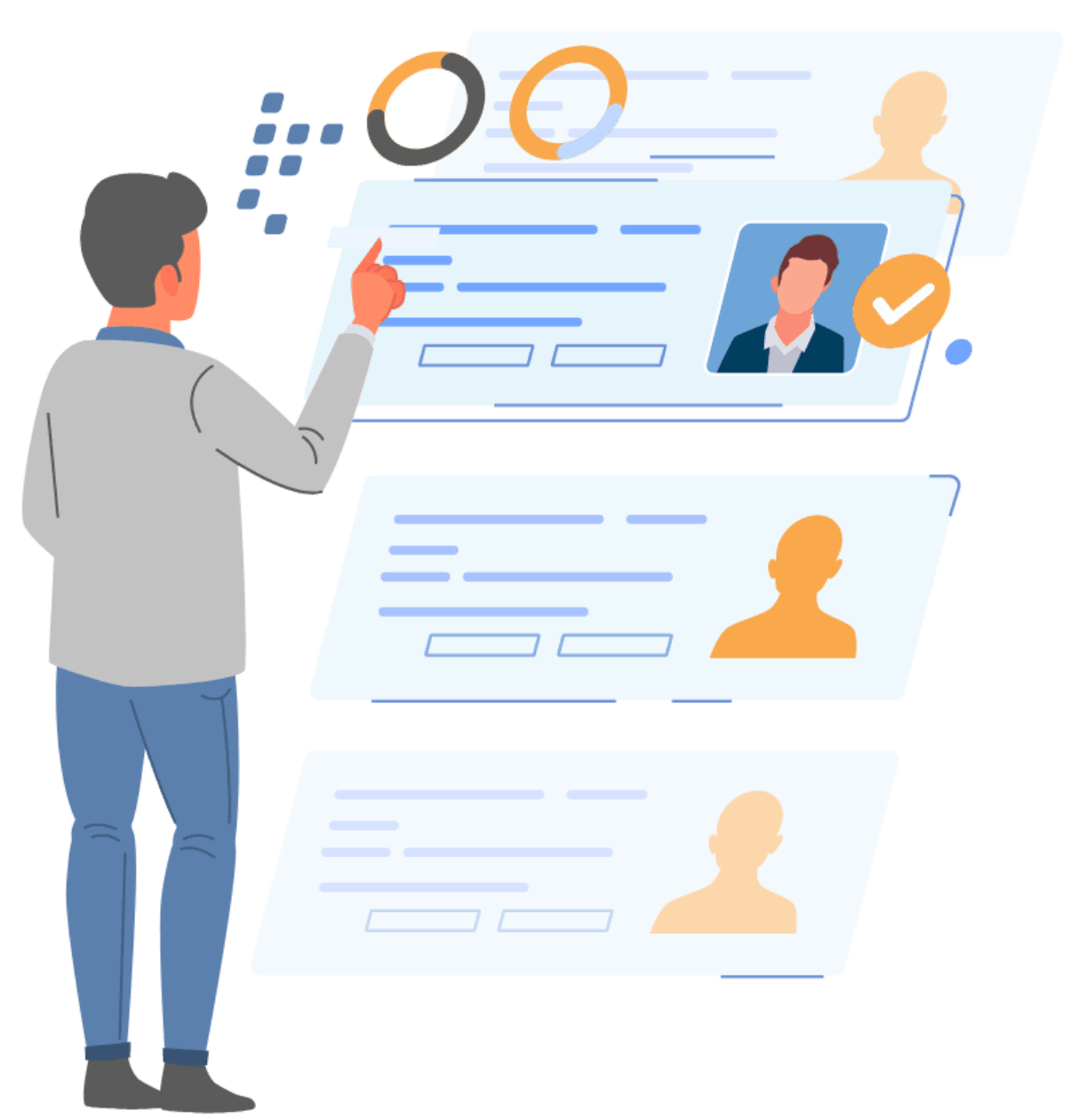 iSmartRecruit customer since
2018
Products used
iSmartRecruit's ATS & CRM for Enterprises
Company size
Medium-sized enterprise
Industry
Recruitment, BPO, & RPO services
Location
New Jersey, USA
About Systemart
In this fiercely competitive market, thousands of HR managers and organisations from various industries worldwide rely on Systemart to find and hire highly skilled employees for open positions.
Systemart offers a quality Staffing solution, Recruitment Process Outsourcing (RPO) and Business Process Outsourcing (BPO) service. The agency helps clients acquire top talent and opens doors for new opportunities for job seekers.
Built on the firm principles of Integrity, Quality and Reliability, Systemart offers you the right talent for your temporary or permanent staffing needs for growth.
The iSmartRecruit Impact
Reduction in
Cost-per-hire

Increase in
acceptance rate
Hiring Hurdles Systemart faced
Recruiters at Systemart were dissatisfied with several aspects of their recruitment process, such as manual and
repetitive hiring tasks that slowed down their productivity and cost them extra money.
Challenge #1

Manually managing hundreds of applications via Excel sheets

Before approaching iSmartRecruit, Systemart handled the applications using Excel sheets.

However, Archana Gupta, Talent Acquisition Manager at Systemart, soon realised that preparing a basic spreadsheet demands extensive manual data entry. It is undoubtedly time-consuming to keep the data updated. Also, it is an inefficient way to manage every application.

They lost hard-earned talent due to a higher time-to-hire ratio and lengthy recruiting process, which is a critical issue.
Challenge #2

Inefficient team collaboration

The manual processes of contacting and tracking candidates generated chaos for hiring teams. Some candidates applied multiple times for different roles, resulting in the process being full of duplicated candidate details and redundant efforts.

Nimish Shah, HR Manager at Systemart LLC, estimated an average of 5 applications for each unique candidate. Multiple recruitment team members would consider a candidate simultaneously without knowing it.

Consequently, the team inadvertently competed with each other instead of working collaboratively to place the individual in the best-fit role. At this point, they figured out that they needed to streamline communication across all hiring teams.
Challenge #3

Ineffective sourcing process

The hiring market is growing significantly due to rapid tech development. Hence, the demand for specific roles and certain skills is booming. With a competitive and complex job market, recruiters at Systemart had many more jobs than available candidates in the new IT space.

As a result, they frequently faced instances where a single candidate was required simultaneously by 4-5 clients.

The major obstacle was finding the most efficient sourcing channels and partners. Figuring out which channel is the best fit for them would take a lot of effort and time.

So, the talent acquisition team needed help with the sourcing process as they were overusing the same channels they'd used before, which didn't create better outcomes.
Challenge #4

Required data analytics to enhance the hiring process

Before using iSmartRecruit, Systemart's time-to-fill average was over 73 days, and time-to-hire was even longer at 89 days. It was way too long, particularly in a current fast-paced and competitive market.

So, Archana and her team needed help tracking the recruitment analytics to analyse hiring efficiency and team performance. Also, they wanted to understand loopholes in the process and improve the stages, which consume much time and can be automated.
The iSmartRecruit Solution
To achieve its business goals, Systemart required a change. So, they started exploring the most inventive solutions in today's recruitment landscape and soon discovered iSmartRecruit's AI-powered platform. Here's how they enhanced their hiring process with iSmartRecruit.
Solution #1

Creating time-saving automated workflows

Advanced automation helps Systemart stay on track and agile. Recruiters were eventually able to respond to every candidate promptly.

iSmartRecruit's AI-powered ATS streamlines critical workflows by automating manual data entry, assigning clear ownership of each task, sending emails and ensuring that every hiring function automatically syncs up. To date, the hiring team has set up approximately 450+ automated workflows.

The knockout screening option in their application immediately disqualifies and notifies candidates who need to meet the qualification standards for a role. Candidates get a fast response, and recruiters can focus on engaging with viable applicants instead.

"Once you use iSmartRecruit's AI Recruitment Software, you won't go back. It saves time and money while helping build better relationships with candidates and clients."

- Archana
Solution #2

Enabling collaborative recruiting process

Adopting iSmartRecruit enables Systemart's team to stay up-to-date and create an all-in-one platform for the recruitment process.

Rather than wasting time scrolling through thousands of email replies to review notes on a specific applicant, every recruitment team member can now click on the candidate record and see the whole history of interaction with the candidates and activities.

The Recruitment CRM SoftwareRecruitment CRM Software streamlines communication between the internal hiring team, clients and candidates. The recruitment dashboard option enables team members to review candidate profiles, schedule calls, and interview candidates effectively.

"The collaboration feature enables a structured hiring process. Now, our team can simplify communication and video interview workflow, interact with a more diverse group of talent, ease the onboarding process and keep every member in the know."

- Nimish
Solution #3

Effective recruitment marketing

iSmartRecruit's Recruitment Marketing platform offers fruitful features such as Social Recruiting, Referral Management, Sourcing Analytics, and Mobile Recruiting, allowing Systemart to grab the best talent faster and build a strong employer brand with which candidates fall in love.

"The Job Board Integration feature is my favourite. It enables the team to promote job openings across 2000+ free Job Boards and 500+ sponsored job boards in just one click. As a result, Systemart established a strong brand and positive market presence and increased traffic and applicants quickly."

- Rinson Samuel, Senior Staffing Specialist at Systemart LLC.
Solution #4

Smarter decisions with deeper analytics insights

Systemart required a simple way to surface actionable insights and make better hiring decisions. At the same time, they wanted a feature that generated detailed analytics and reports of the hiring process to be more strategic in their recruitment efforts. iSmartRecruit made it possible!

It provides crucial recruitment KPIs such as Top Sourcing Channel, Offer Acceptance Ratio, Interview To Offer Ratio, Drop-off Per Stage Type, Application Frequency Rate, and Time Spent Per Stage Type.

Also, Reporting feature generates reports on crucial metrics like Time To Hire, Time to Fill, Team Performance, candidate scorecard, GDPR, Projection Revenue and Employee Referral.

"More profound insights into hiring workflow enable us to diagnose the bottleneck in the process. With analytics data from iSmartRecruit, the team recognised and eliminated inefficiencies. The reports allow us to pivot, modify and enhance our hiring functions in a highly competitive market."

- Archana
Outstanding Results
Systemart chose iSmartRecruit because it was an innovative, easy-to-use, cost-effective solution to help them with their industry-specific recruitment needs.Since deploying iSmartRecruit's ATS & CRM, they've doubled their capacity to provide quality candidates to their clients, streamlined workflows and enhanced communications.
In 180 days, the agency made roughly 450+ hires with an 83% acceptance rate.
The automation features saved the company approximately $35K on recruiting labour
and reduced time-to-fill from 73 days to 45 days.
Ultimately, with iSmartRecruit's user-friendly interface and endlessly customisable automation,
Systemart has scaled the hiring process by 3X in 2.5 years and secured
top talent for niche roles successfully across multiple hiring regions.
"With automation workflows and visibility on the candidate journey,
we were able to reduce our time-to-hire by 57% and cost per hire by 49%.
Candidates are having a positive experience with us,
and it's because of iSmartRecruit's AI Recruitment Software." Nitin Shah
CEO of Systemart, LLC
Supercharge Your Hiring & Get Outstanding
Results Like Systemart
Level up your recruitment game, transform the way you hire talent, and bridge the gap to your
organisation's success with iSmartRecruit's ATS & CRM Software
30 minutes to explore the software.