A group interview refers to one of the most popular types of interview. Check out this blog to learn about a group interview, it's advantages and disadvantages, and best practice for a group interview.
The interview is the most troublesome process of the recruiting approach as it also involves candidates. Rather than evaluating candidates, good recruiters will also be judged as it is a face to face conversation. Sometimes, recruiters also find it challenging to handle "over-qualified" or "under-qualified" candidates.
Interviews are conducted in different ways. Basically, there are two types of interviews - the first one is an individual interview and the second one is a group interview. The recruiters' used to do the personal interview as it evaluates the candidates to the core. But this process takes a lot of time, and after so many interviews, you need to check the histories and do post-interview screening too.



So to avoid this kind of problem, recruiters have found the most effective way. Every invention has its own pros and cons, whereas this function also gets some advantages and disadvantages.

What is a Group Interview?
A group interview is the type of screening process where the interviewer conducts the interview, more than a single candidate or multiple candidates. Every recruiter and employer wants to create a strong talent pool; a group interview gives them an opportunity.
In a group interview, the interviewer gives a topic for debate to candidates. Candidates have to put their point of view and stand out from the candidates' heap, which is not easy. Candidates have to show all their skills like leadership qualities, communication, language command, and knowledge just by talking on that particular topic. And through this, they try to avoid the bad hire.
Do mix the panel interview with the group interview. In the next section, all your doubts regarding the group interview and panel interview will be clarified.

Group Interview VS Panel Interview
People are generally confused between the group interview and panel interview and ask questions like Is group interview and panel interview the same? Not then what is the difference? Etc etc….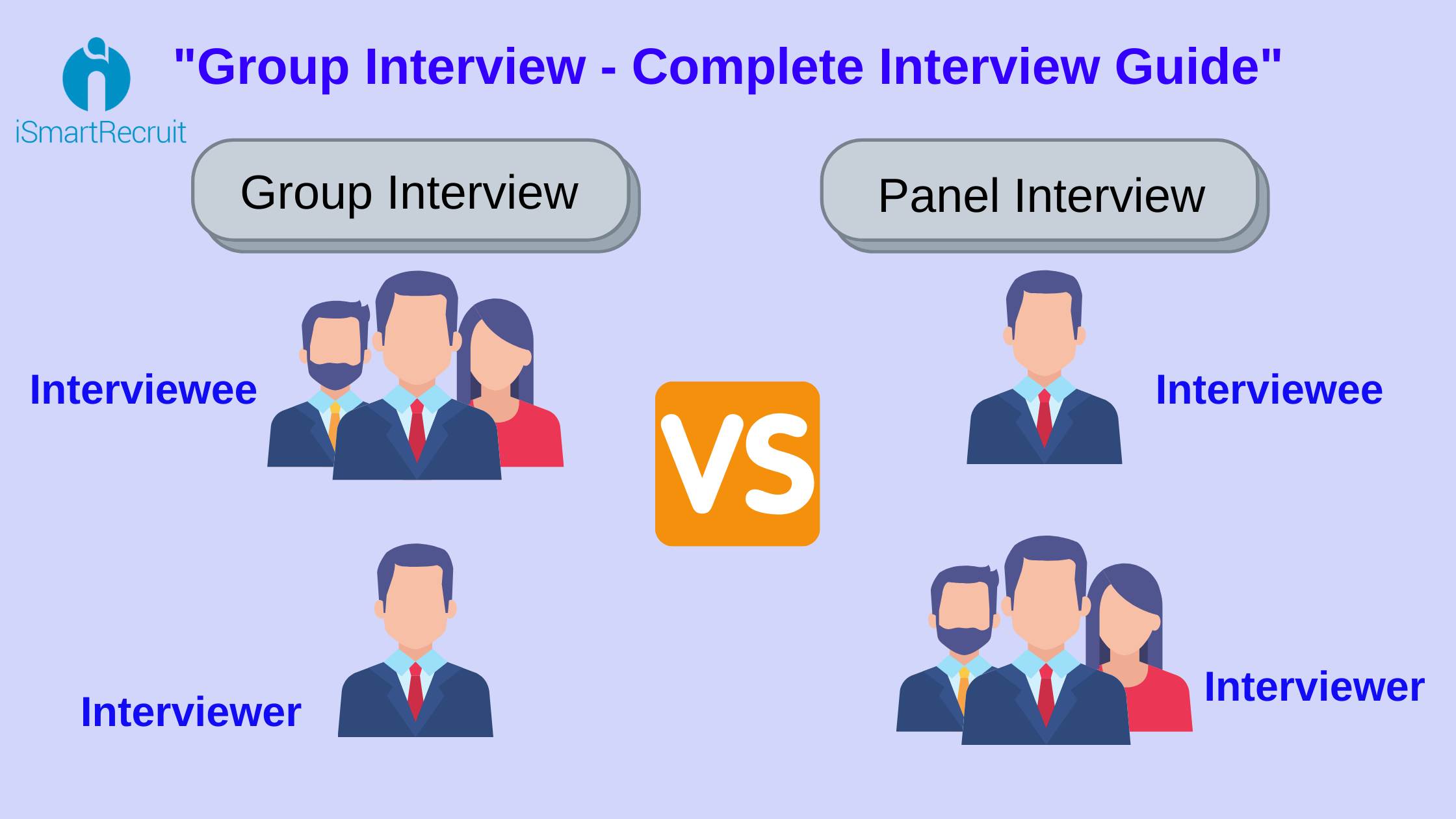 Recruiters and employers face various challenges in hiring a great candidate. And this is the way they select the top talent.
Group Interview :
In a group interview, there are only one or sometimes multiple interviewers.

While there are always multiple interviewees.

An Interview of the bench of the candidates takes place simultaneously.

A single topic is given to all candidates.

Some time group activity is also conducted during the group interview.

Panel Interview :
In a panel interview, there is always a group of interviewers.

While there is always only a single interviewee present during the interview.

The Interview of each candidate is taken one by one.

No activity has taken place.
Let's see advantages and disadvantages of the Group Interview Process.

Group Interview Advantages and Disadvantages
A group interview brings something fresh for the employer and candidates. And, it seems like an interesting method of conducting the interview. But really is it?
No, it also carries many challenges for the candidates and employers/panel too. Let's check out what are the benefits and drawbacks a group interview bears with it.

Advantages of group interview
Many companies and organizations hold a group interview due to some reasons. And the reasons are its advantages.
A group interview offers many benefits compared to a one-to-one job interview. So, here are some pros of a group interview.
Quick selection


Here is a win-win situation for recruiters. As it is an evaluation process of a candidate, you can have a better idea if you scale every candidate at a time. So you can select and reject candidates quickly. This saves recruiters a lot of time and effort.



Scope for the discussion

It allows the space for candidates and to speak about their opinions. It may also change the recruiters' minds upon certain beliefs. It also helps you to understand the personality of a candidate. If he/she is an introvert or extrovert, how strongly they can put their opinion in front of others, how do they defend, how do they convince? Everything you can evaluate in one place.



Similar question with different answers

The group interview can bring you different answers to the same question. So you can quickly judge a candidate. And you will also understand their mindset like optimistic, pessimistic, realistic, or futuristic.



Highlight the potential candidates

A man can truly be evaluated in a crowd. If you see candidates between mass audience, you will identify them. If they are helpful to others? If they get jealous? If they believe in toxic behavior or not? You can easily observe their personality traits while interviewing them in mass.



Communication skills

Communication is the fundamental point that converts and convinces anyone. So if your applicants have excellent communication skills, that will definitely help your organization at the end of the day.



No further reviews needed

A group Interview is a place where you can identify your future employees efficiently. And if you are getting all the answers from the candidates at a time, there is no need to review them further. So this will be like On The Spot Decision.



Disadvantages of a group interview
Similar to all other methods conducting the interview, a group interview also has some drawbacks. Here are certain key disadvantages of a group interview. 
Creates a difficult competition

While working with a group, there are more chances to have a tough competition. It might be difficult for a recruiter to decide in such chaos. So this will create competition on both levels, for candidates and for recruiters also.



Control of the discussion

Sometimes, in a group interview, people lose control of the discussion. Besides talking about the job requirements, candidates or recruiters start to compare the opinions and views. So it is quite challenging to maintain the flow of the conversation in control.



Overpowering candidates

It is the most common situation of any group interview process. Overpowering candidates get highlighted even though they are not highly skilled or qualified. And at the same time, enough qualified candidates can be neglected because of their introverted personalities.



A limited set of questions

The group interview is a totally different way to judge the candidates. You have to select the minimum number of question that defines your requirements. The Group Interview was conducted to save time, so you also need to manage the question and answer frequency according to your timeline.



Thought process conflicts between candidates

This is the most unmanageable situation for recruiters when you find two highly potential candidates debating on one topic, and you find both of them points valid and well defined. So try to avoid the conflicts between the thought process of your candidates, though it's non-curable. But it can be minimized.
[Statistics:- Group interview add 5.6 and 6.8 days into the recruitment process. ]

Here is the Group Interview Tips For Succeeding
Whether it is a simple interview, panel interview, or group interview, tips are always required. And for a group interview, a band of tips required. Tips are for succeeding in the interview and shining out from other candidates because a group interview requires extraordinary skills.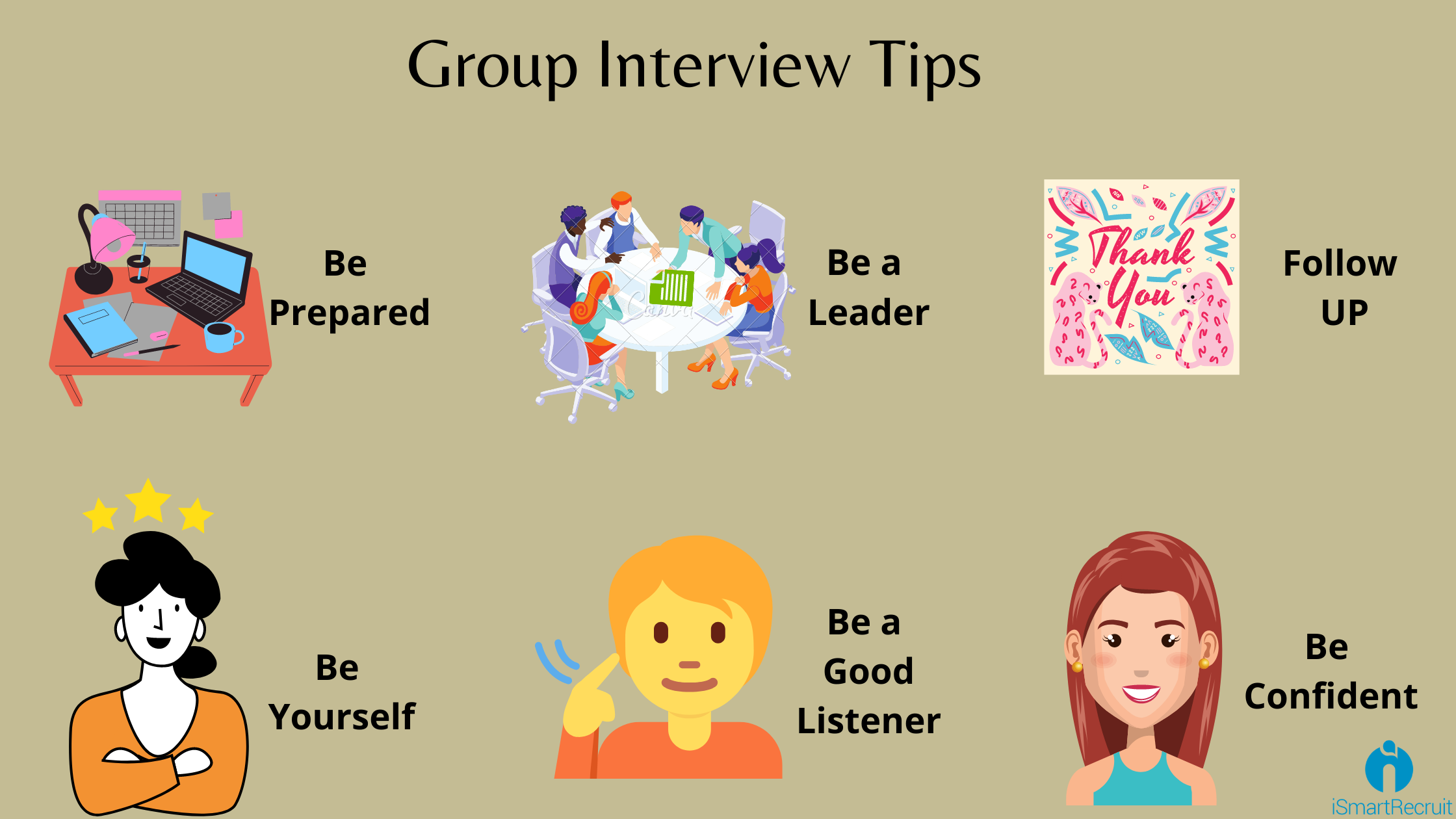 So, here are some group interview tips.
Do some research and gain knowledge on the current and famous issues or things.

Greet to all whether it is a panel or your competitors.

Prepared with your introduction and that should be effective and attractive.

During a group interview, listen carefully to each candidate before serving your thoughts.

Don't be afraid to answer in the middle of the discussion or in the first.

Support any of your co-interviewer points and try to involve each candidate in the conversation.

Ask questions in various ways that put out each aspect of the topic.

Wear confidence as the best assessor.

While putting your point, always make eye contact with other candidates.

At the end of the group interview thank you to every interviewer and if possible do shake hands.


Sample Group Interview Questions and Answers
Below are the few questions that assist you in preparing for a group interview. These are the generally asked questions by the panels.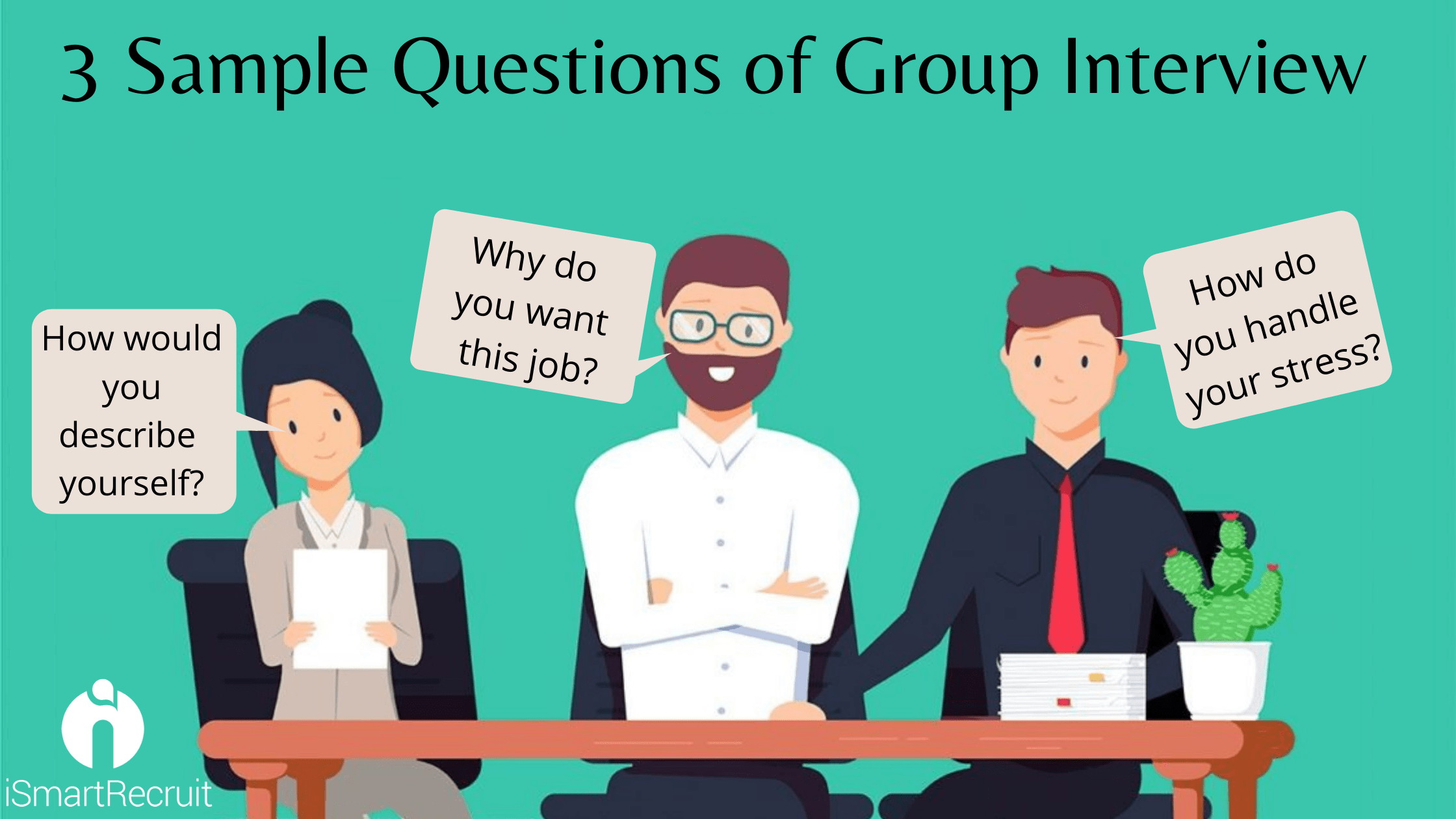 Q1. How would you describe yourself?
"I am one of the passionate and enthusiastic people. Whatever I do, I do with confidence and dedication. Yes, I made mistakes because I am human, but the thing is, I learn from it. In my last job, I faced a heap of challenges; consequently, I learned new skills that helped me work better."
Q2. Why do you want this job?
"One thing I promise myself, I will create a decent career in my domain. My present job is upgrading my career from the last 3 years. I learn lots of hard and soft skills from there. But, to make my career journey more memorable and fruitful, I have to move forward. I set some objectives for myself in order to move forward, and your organization is the right place to achieve my goal."
Q3. How do you handle your stress?
"In my opinion, a little bit of pressure of work is required. It will motivate you and make you more productive. Yes, but sometimes the high pressure of work becomes stress. And for that, first I analyze the thing like why I am stressed? If something is in my hand which I can control, then I do that. As far as I know myself, I have been skilled in balancing multiple projects and assessments." 
Above are a few examples of group interview questions and answers that are generally asked by the employer. Most of the questions they will ask about your job skills.




The Bottom Line for Group Interview Pros and Cons
So, these were some of the pros and cons of a group interview. If you are a candidate and preparing for the group interview, please don't forget to read group interview tips. This group interview tips help you to pass and stand out during the interview. But also, do enough preparation from your side as well.
The advantages and disadvantages of group interviews serve proper information to the employer while conducting the group interview.
To read more interesting articles like this, you can look at iSmartRecruit that helps make your Interview process easy and automated. And you can also ask for a Free Demo.