Social media influencers have become the first preference of every brand and marketer than ever. Digital marketers are all set to invest their time and resources to form a successful marketing campaign. Thus, if you are seeking top social media influencers, then stay connected. Moreover, know, what is a social media influencer? And explore the top social media influencers list.
                      
What is a Social Media Influencer?
The answer is quite simple, an influencer is someone who influences the thought process of other people.
Social media influencers have an extensive list of followers the entire time.
Influencers in social media are people who have created a reputation for their wisdom, experiences and expertise on a particular topic. They make frequent posts about that topic on their favoured social media platforms and form large audiences of enthusiastic, engaged people who pay close attention to their views.   
A survey found that 34% of daily U.S. Instagram users bought something because a blogger or influencer recommended it. (Source)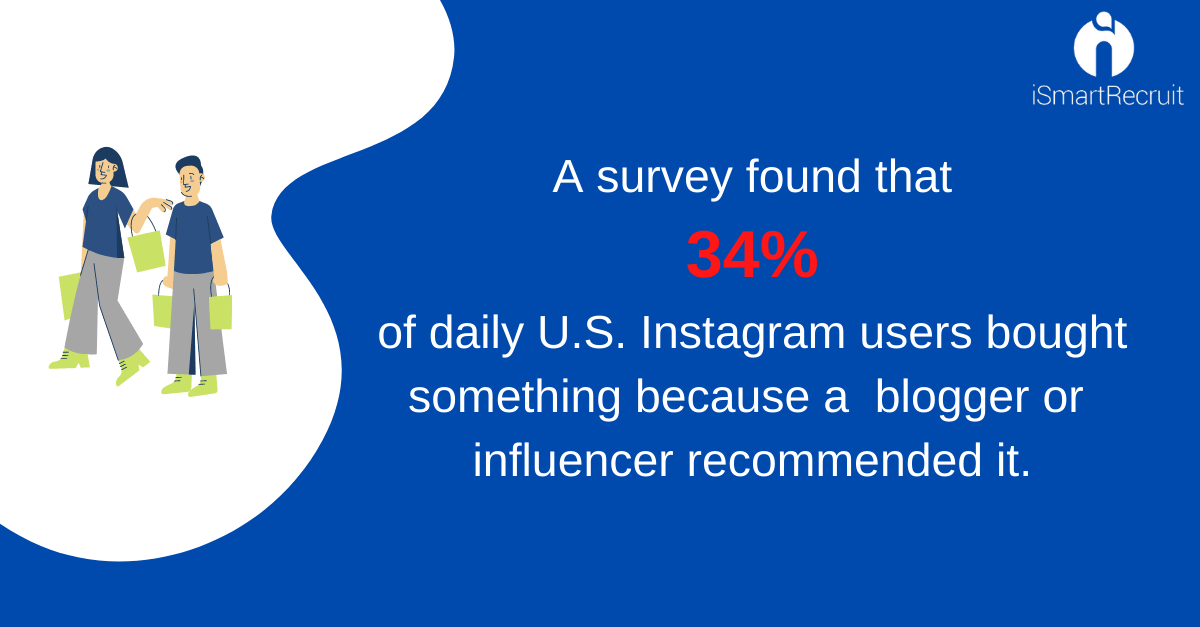 Top 20 Social Media Influencers List
Social Media is the fastest growing network that connects over 3.5 billion people users all around the world. This is equivalent to approx 45% of the population of the Earth. Imagine the impact of social media on our daily routine!
This could highly affect our lifestyles to get influenced easily by the people. Here I've listed the most powerful social media influencers you need to follow in 2021. This could help you to be in trend!
Here we go!

#1: Jason Keath
Jason Keath is leading this list as the most charming social media influencer. He has been a keynote speaker at BlogWorld, Internet Week, Internet Hungary, Mobile World Congress, SXSW, Southwest Airlines, Salesforce, Rubbermaid, and NYU among others. He was featured as a social media expert in the NY Times, LA Times, Wall Street Journal, USA Today, and on MSNBC.
He founded Social Fresh in 2009 to give a creative edge to the brands. Besides all of his big achievements, you can find his creativity in his Poetry Section on his website.
Connect with him on:

#2: Derek Halpern

Derek is owning a health and wellness company called Truvani. He is best known for his foundation - Social Triggers, where he is sharing his thoughts on how to build and grow a company. In his word, he is 99% useless. But that 1% when he is not, He is Dangerous! I think this brings enough fuel to get us to his profile and hit the follow button!
Connect with him on:


#3: Andrew Hutchinson
We all know Andrew! - We all know Social Media Today! He is a Digital Marketing and Content Expert and also an Award-Winning author. He writes on the latest social media updates with complete honesty. He is best known for his 2 Novels ONE and Rohypnol. 
He has been listed in 'Social Media Marketing: Top 10 Influencers and Brands 2015' by Onalytica, and Top 100 content marketing influencers in Onalytica's annual Content Marketing Landscape report for 2014.
Connect with him on:

#4: Nancy Richmond
Nancy is an internationally-acclaimed Professor, Speaker, and amazing Social Media Consultant. She is an inspiring leader to innovate in the digital world. On her website, she has quoted, "I empower and train people to leverage social media to be more effective leaders & grow their business". She is one of the social media experts who has inspired thousands of people companies. She is a social media influencer with over 200,000+ followers.
Connect with her on:

#5: Gregory Ciotti
Gregory Ciotti is one of the known social influencers. Gregory is the content marketer at Shopify. In Greg's words, Marketing is enthusiasm transferred to the customer. Expecting customers to get excited about your product without your help is expecting too much.
Connect with him on:


#6: Mari Smith

You might know her by "the Queen of Facebook," Mari Smith is considered one of the world's foremost experts on Facebook marketing and social media. She is a Forbes Top Social Media Power Influencer. She is doing Corporate Training, Keynote Speaking, Webinars, and also can become a brand ambassador.
Connect with her on:

#7: Kim Garst
Kim is also recognized as a thought leader in the social media world globally. She is one of the Top 10 Social Media Power Influencers by Forbes. She has also advised Microsoft, IBM, and Mastercard for their Digital Marketing. You should definitely follow her to get the latest updates in 2021!
Connect with her on:

#8: Scott Stratten
Scott Stratten is the President of Un-Marketing. He is one of the leading speakers/authors in the world when it comes to helping audiences embrace the age of disruption.
Connect with him on:

#9: Alison Stratten
Alison is the spouse of Scott Stratten she and her husband are the co-founders of Unmarketing. She is running a podcast named Un-podcast. She is also a co-author of an Un-selling book.
Connect with her on:

#10: Ann Handley
Ann is a speaker, author, and member of the LinkedIn Influencer program. She is the author of the Wall Street Journal best-seller on business writing, "Everybody Writes," and the co-author of the best-selling book on content marketing.
Connect with her on:

#11: Jon Loomer
Jon Loomer is best known for his website - (jonloomer.com) and gaining over 4 Million page views in just 17 months. His blogs were recognized as one of Social Media Examiner's Top 10 Social Media Blogs of 2013. Other than his contribution to SMM, He was the maker of principle strategy, product, content, promotions, and marketing for the National Basketball Association - NBA's fantasy game.
Connect with him on:

#12: Neil Patel
We all know this charming face in the Digital marketing world. What to say about this guy! Forbes says that he is one of the top 10 marketers, and Entrepreneur Magazine says he created one of the 100 most brilliant companies. He was recognized as a top 100 entrepreneur under the age of 30 by President Obama and a top 100 entrepreneur under the age of 35 by the United Nations.
Connect with him on:

#13: Jenn Herman
Jenn could be called an alternative to Instagram Marketing. She is an Instagram Expert, Social Media Strategist, International Speaker, Author, & Consultant. She has been an amazing social media expert for the companies to generate business out of Instagram accounts.
Connect with her on:

#14: Samantha Kelly
Here is the Twitter Magician! Or you can say Tweeting Goddess! Samantha is best known for her speech at TEDx on - How Twitter Transformed My Life in 140 Characters. Apart from being a Twitter expert, Samantha is a community builder and owner of WomensInspireIE, a global online community.
Connect with her on:

#15: Robert Katai
Robert is the host of one of the most popular podcasts in Romania, called "Katai". He is the administrator of marketing at Bannersnack. He is very passionate about his work, and this is reflected by his blogs and podcasts.
Connect with him on:

#16: Peg Fitzpatrick
Here is the Pinterest Expert on our list! She is known as Top 15 Pinterest Experts! Peg has successfully run the social media campaigns for big brands such as Kreussler Inc., Adobe, Motorola, Audi, Google, Virgin, and also been a brand ambassador for Kimpton Hotels, McDonald's, Adobe Spark, and T.J.Maxx!
Connect with her on:

#17: Jeff Bullas
Jeff is a digital entrepreneur. His website https://www.jeffbullas.com receives over 5 million visitors a year. Jeff was announced as Number 1 Global "Digital Marketing Influencer" in 2016 by Appinions and listed on Forbes as one of the "Top 20 Influencers of CMO's" in 2017. You can check out more about him on his LinkedIn Bio - Go follow him!
Connect with him on:

#18: Evan Kirstel
Evan Kirstel is a B2B thought leader and top technology influencer and industry insider with a direct social media following of more than 400,000 (280K Twitter, 55K LinkedIn, and 95K Instagram followers). He is a tech enthusiast and worth following people on the internet.
Connect with him on:

#19: Pam Moore
Pam Moore is known as Forbes #5 Social Power Influencer. She is an international keynote speaker, trainer, consultant, strategist. She has 25+ years of experience working with the most successful brands in the world, including Loreal, Redken, Adobe, GE, IBM, Sony, HP, and many more!
Connect with her on:

#20: Rebekah Radice
Rebekah is the founder of Rebekah Radice Media & co-founder of BRIL.LA, a women-owned digital marketing and CX design firm. Rebekah can help you with Coaching / Strategic Planning, Team Training, Online: Workshop / Training for social media and branding.
Connect with her on:

Connect to Social Influencers, Now!!!
These people are spreading all of their experiences with love over social media platforms. This blog intended to take you to the people you did love to see on your timeline and would have benefits to follow them. You are able to find these people on every social networking site whether it is Instagram, Linkedin, Youtube, or Facebook.
Please let us know if you have some suggestions to increase this list! Also, let us know about your favorite social media influencer. We are very much interested to know.