While talking about the global pandemic in times of post-pandemic that are mainly responsible for the future trends in all the industries worldwide. The only sector that has been highly challenging among all is recruitment. As per the fact stated in a report by McKinsey & Company, around half of the employees are not coming back on their own that willingly left organizations during the pandemic. According to this fact, employers have to be more reliant on external recruitment where they are bound to go and get the potential talent from outside.
By witnessing, the high employee turnover ratio following 'The Great Resignation Trend' in 2021. This article will help your recruiting team to understand external hiring in better terms that provide you with the latest insight regarding the method of external recruitment concluding its pros and cons.
Before moving forward to further insights, lets us define external recruitment in simple terms,
What is External Recruitment?
"External recruitment is about filling up a job opening by hiring an appropriate candidate from outside of the company than hiring existing employees within the organization."
Following the above definition here, we have articulated the latest methods for external recruiting.
External Recruitment Methods
1. External hiring through different job portals
The beginning of the entire hiring cycle starts with preparing Job descriptions for the Job openings and posting them on diverse job boards. As per the estimates, more than 80% of job vacancies get filled through the various job boards.
Automation in the Applicant tracking system has enabled integrations with multiple free job posting sites that every recruiter can leverage and make the recruiting more efficient. It is a cost-effective way to attract potential talent by improving your employer's brand since most millennials and Gen Z today search for jobs on job portals.
2. Social media recruiting
As per the 2021 report by social recruiting firm CareerArc, 92% of employers use social media for better hiring. Social media such as Facebook, Instagram, Linkedin and Twitter also helps recruiters in a social media background check of candidates before onboarding them.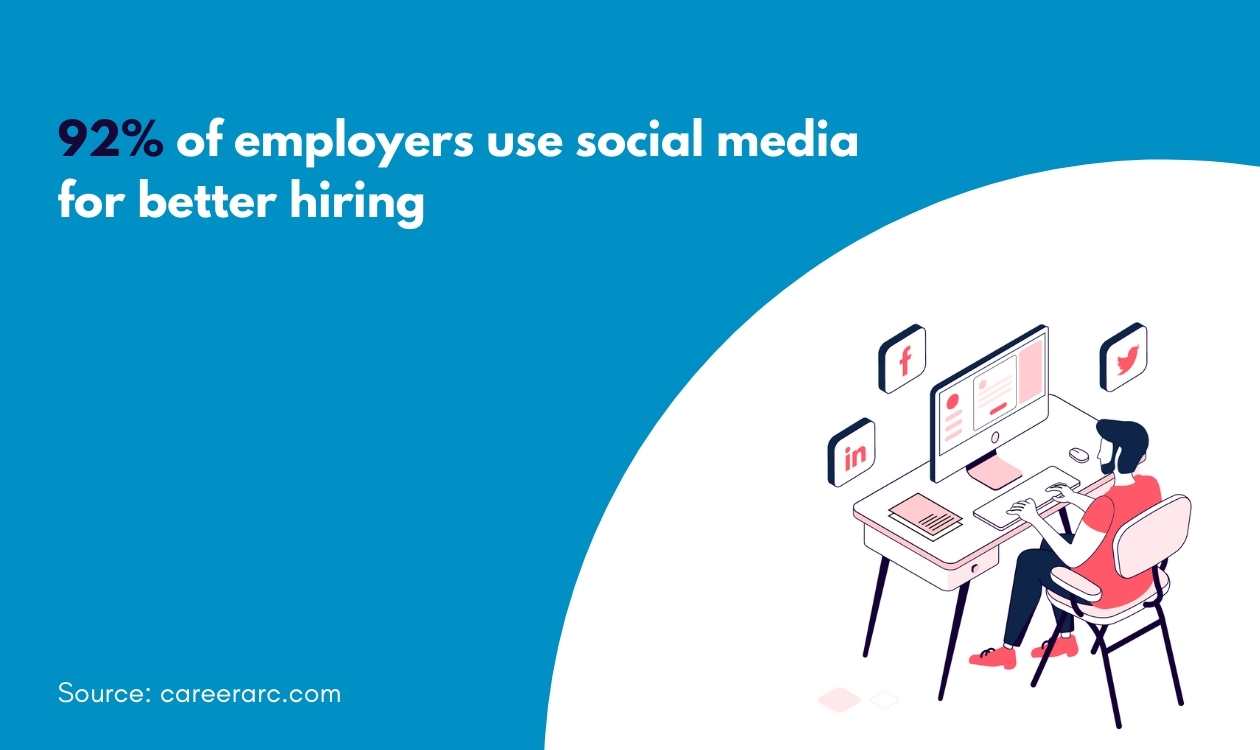 3. Recruitment agencies:
Recruitment agencies are one of the effective sources of external recruitment, which is a medium that easily connects organizations and candidates as per their requirements, whether you require contract-based workers or you need employees with specific expertise and skills, recruitment agencies help employers find the best talent by charging approx., 15 to 20% for their services.
4. Employee referrals for external recruiting
Employee referrals are becoming increasingly important as the employment market changes. So far, as per the employee referral statistics of 2022, 45% of referral hires stay more than four years in comparison to 25% of hires through job boards.
5. Company's career website
A career website of your organization is also considered a significant way to attract and source the best applicants. Most of the time, they check the company's website before applying, which increases the chances that highly skilful talents apply for job openings by reviewing your company's website and its brand value.
Irrespective of the above-mentioned external recruitment methods that are more beneficial to be implemented post-pandemic, where virtual hiring has taken place. Other methods such as job fairs, events, on-campus recruiting and print media are also traditional methods that are still being used by recruiters in specific industries.

Since every coin has two sides, likewise, we have concluded the pros and cons of hiring externally which are as follows:
Pros of External Recruitment
It maximizes the chances of finding the right candidate for the right place.
It encourages diversity, equity and inclusion in the workplace.
The prime benefit of finding talent outside is that it provides a new perspective to the business because of a different mindset, fresh ideas and new skills.
It helps create a healthier workplace where existing employees get inspired to learn more to match with new talents that result in better growth of employees and make business more competitive.
Cons of External Recruitment
External recruitment can be a lengthy and time-consuming procedure, which is one of the main reasons that it is less preferable for recruiters.
It increases the overall cost since many times sourcing out the best suitable talent, the employers have to spend high on recruitment agencies, expensive job portals and other mandatory expenses. 
External recruiting involves the risk of high turnover of new hires since the study by BambooHR reveals that 30% of new hires leave the workplace just within six months due to a lack of training and development. The reasons also include work culture, compensation and benefits.
Conclusion
Having considered that the priorities of every recruiter have significantly changed due to the latest future trends in recruitment that highly focuses on automation, diversity, equity and inclusion in the workplace as well as remote and flexible work to make external recruitment more beneficial, it is essential for employers to establish strategies that improve brand reputation, which eventually helps organizations in retaining skilful existing employees.