Social Media Recruitment is an HR strategy to attract better job candidates for open positions. Firms create a presence on social media sites to boost their brand and interest of people in applying for jobs.
Social media refers to websites and applications that are designed for people to come together and share content quickly, efficiently, and in real-time. If you are confused about which sites can be listed under social media sites, you can look for the following common features:
Personal user accounts

Profile pages

Friends & Followers

Groups

Hashtags 

Like buttons and comments sections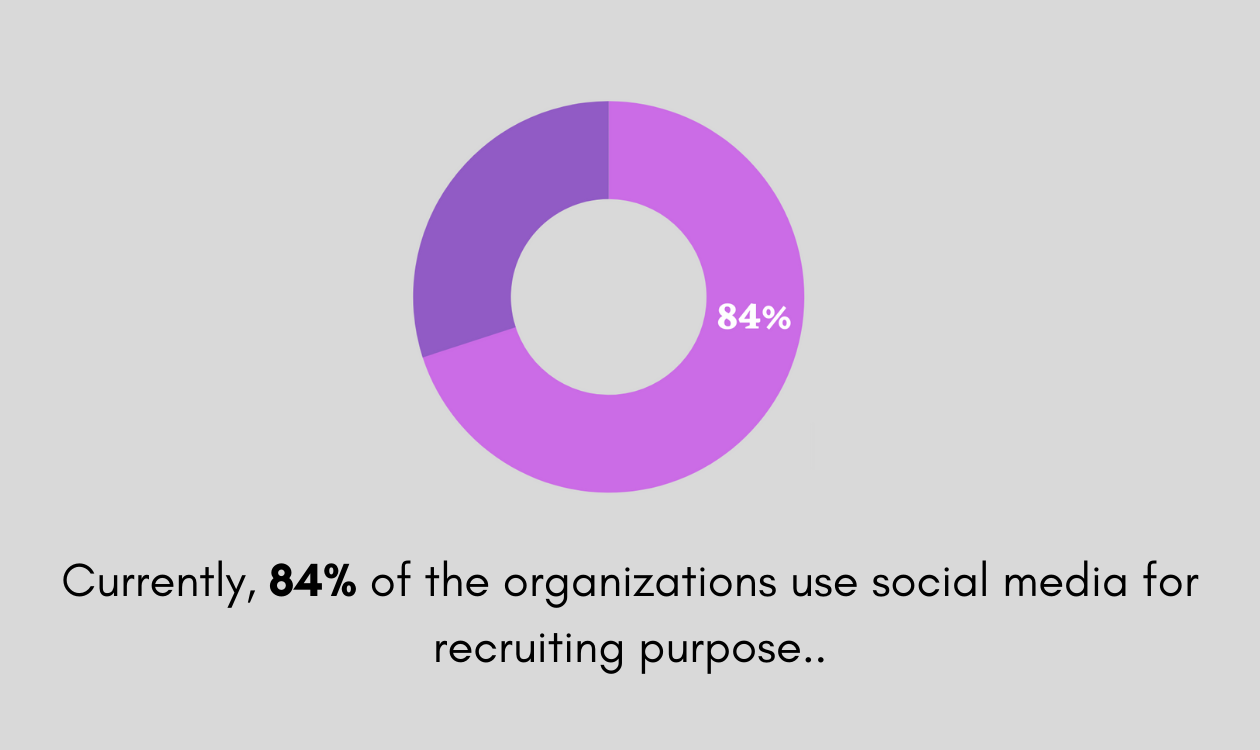 What is Social Media Recruitment?
Social Media Recruitment is a hiring process where companies or recruiters hire candidates via social media platforms. Here, social media platforms like Facebook, LinkedIn, Instagram, Twitter, etc., are used as advertising or talent database platforms. Blogs, forums, social media profiles, or other internet sites can be used to attract and hire talent.
It is a unique and free way of advertising for job opportunities. Since everyone is on social media, the reach for recruitment on social media platforms is also higher. Social Media gives a clear idea about a candidate's personality and a company's aura. This can help both the company and the candidate a clear picture of what they are getting into. 
Social Media profiles can be used to get a background check on the candidates and the company pages on these social media platforms provide aspiring candidates with all the information and job vacancies in an institution.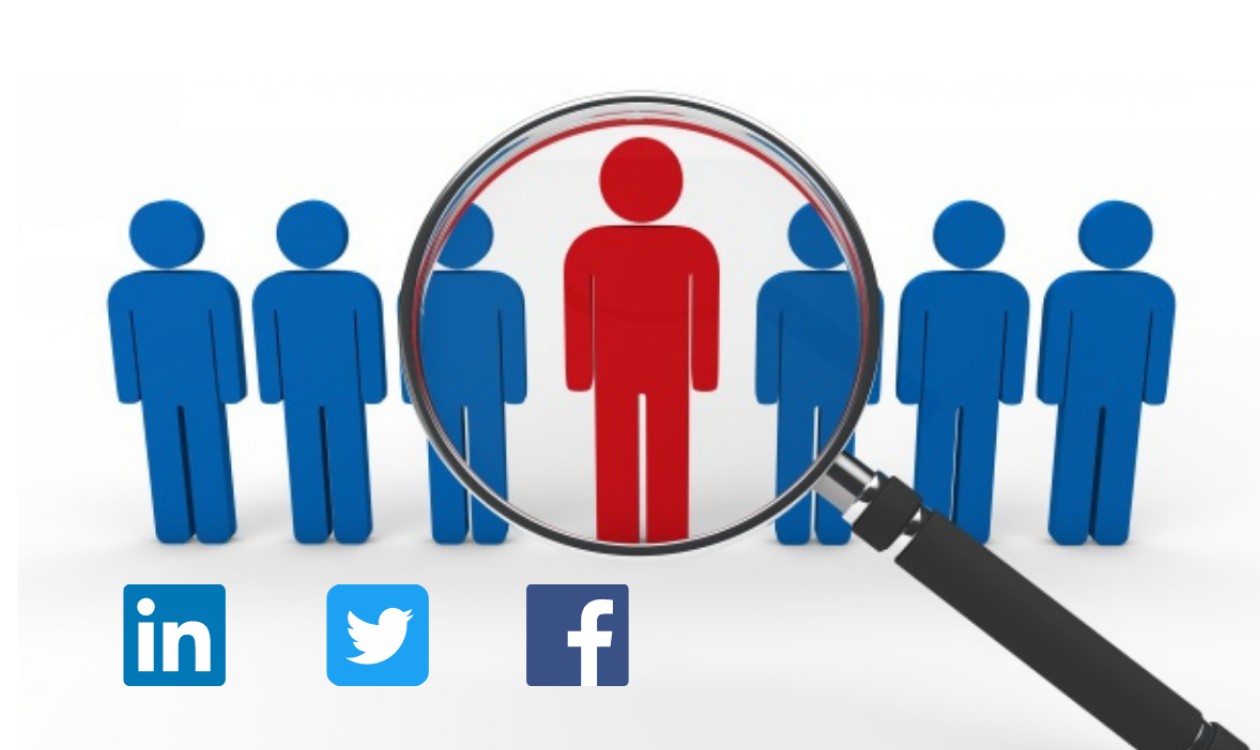 What is the Importance of Social Media Recruiting?
Social Media Recruitment incorporates using social media networks not only as a form of job boards but it also helps to build a brand image for the company and develop a bond with potential candidates. Candidates are encouraged to apply for a vacant job position through social media as they feel they are more connected and aware of the company. 




How does Social Media Recruitment Work?
Some talented people are more engaged on social media sites than on job boards, so social media recruitment is a great way to reach them. Algorithmic-based technologies can use job descriptions to find people on social media who meet the requirements and then rank them. LinkedIn automation software can help employers scrape LinkedIn and save their custom searches to Excel or their custom CRM platforms. It's then up to the employer to reach out to these passive candidates and see if they want to talk more about potential jobs. 
Other than this, the companies can post about their job vacancies on their social media profiles, and interested candidates can look at those posts and apply for the jobs.




Social Media Recruitment Strategies 
Every organisation must have a social media recruitment strategy to attract more talent into their database. Here are a few strategies which you can make use of:
Network and engage with your audience
Start an engaging conversation while responding to potential candidates on social media platforms to build trust and a bond with job seekers.
Highlight company culture
Social Media Platforms are the best place to showcase companies by sharing achievements, milestones, events, and much more. 
Use appropriate social media platforms
Use the social media platform that most appropriately fits the kind of persona you are seeking in the candidate and the job opening.
Share the right posts
Do not spam with a post related to just the vacancies and about your company. Rather, share different senses of humour posts, industry trends, etc. to keep your followers engaged.
Get the staff involved
You can ask your employees to share job postings or about anything interesting that happens with them at the work-front on social media platforms.
Join groups
You can join groups and follow pages related to recruitment or your industry. This will keep you updated with your market, and you can post about job vacancies in these groups to reach the niche audience.
Use videos
You can make videos about your company's culture, job vacancies, employee experience and much more and promote it on social media platforms to reach passive candidates.
Power of hashtags
If you wish to be trending and talk of the town, you have to learn the art of hashtags. It helps to attract the audience to your profile and build brand awareness for your company.
Social Media Recruiting Examples
In the past few years, many companies have changed their recruiting process and switched to social media for attracting top talents. Here are some companies who are at the top of the game when it comes to Social Media Recruitment:
UPS is named as the 'Top 50 recruiters on Twitter'. Their Facebook and Twitter are full of personal stories and videos where employees showcase their work culture and engage with candidates daily. They are highly interactive with daily question answers and discussion topics.
Marriott's Career page has four times more likes than Facebook's official page, i.e. 1.3 Million Likes. Here, the candidates get real-time answers which build personalised connections with the candidates. Also, they regularly recognise their employees' achievements.
Intel is known to maintain an approachable presence on social media by creating an open dialogue on the page. They make sure to respond to the candidates thoroughly and quickly.
Zappos creates 'Inside Zappos' pages consisting of all the information about campus events, company culture, employees, and much more and they call the job seekers as 'Zappos Insiders'. They created a network of talent using relationship-based recruiting.
Sodexo successfully established a candidate-focused approach by using resources like blogs to educate the candidates.
What are the Benefits of Recruiting Through Social Media?
Social Media Recruitment allows recruiters to engage with clients and develop deeper connections in real-time. Some of the benefits of Social Media Recruitment are as follows:
Social Media Recruitment lets companies reach candidates faster and at a lower cost as compared to job boards and recruitment agencies.

It makes engagements with the targeted audience easy and explores if the candidate is the right fit for the company or not.

 It builds brand awareness and makes people more aware of job opportunities.

Companies get a higher response rate from potential candidates.

Social Media Recruiting is also a great source for obtaining referrals.

It lets companies get a background check and verify the candidate's personality before hiring them. 
Some Statistics Related to Social Media Recruiting
Social media and recruitment have changed the whole game of recruiting and the hiring process, and here are some statistics to prove that:
92% of companies use social media for recruitment.

79% of candidates use social media platforms for job applications.

70% of hiring managers claim to have successfully hired using social media.

80% of employers find that social media helps to attract passive job applicants.

Social Media is considered the most useful job search source by job seekers.

LinkedIn is the highest-ranking social media platform when it comes to recruiting with 93% of companies using it.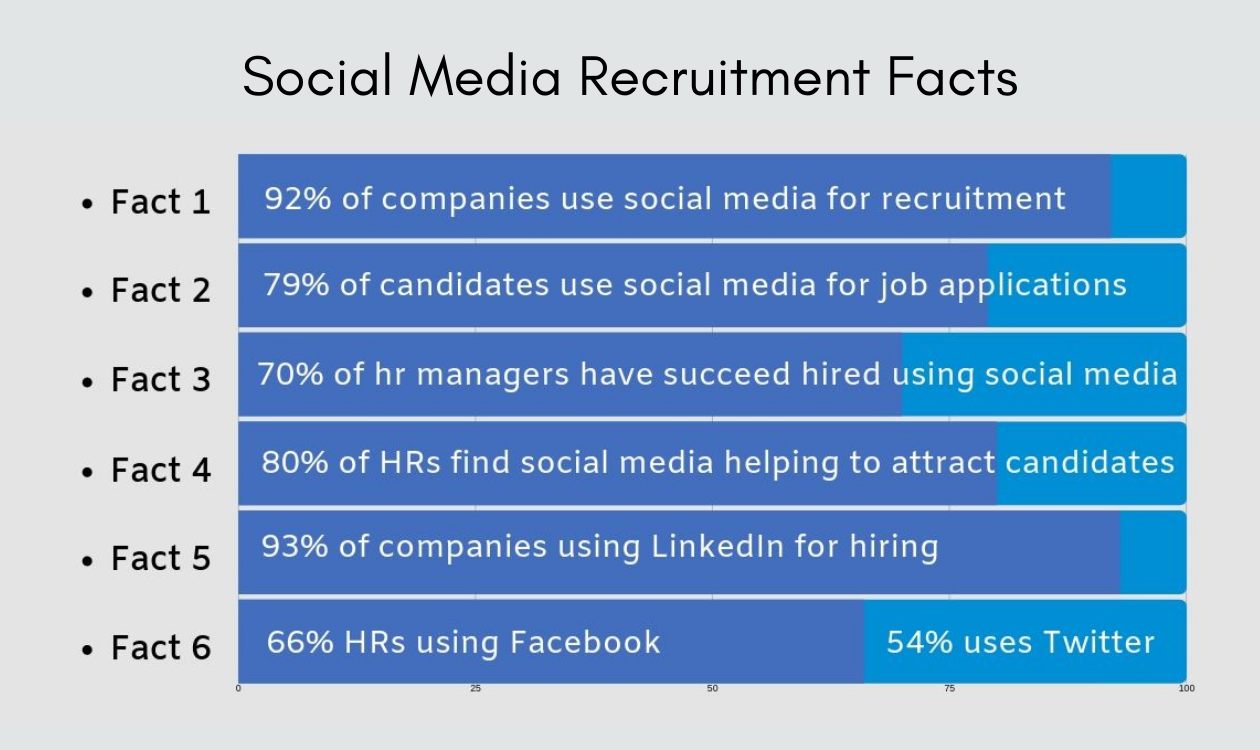 What are the Drawbacks of Social Media Recruiting?
As every coin has two sides, recruiting through social media also comes with its set of drawbacks.
  As social media is a public platform, some candidates do not feel comfortable when recruiters check their social media profiles due to privacy concerns.

  The employer can unknowingly and unwillingly become biased with candidates who have well put social media profiles.

 Some social media profiles may have missing or inaccurate information which can lead to injustice towards the candidate.
Should Employers Conduct a Social Media Background Check?
Social Media is an important source for the recruiters to explore information about their potential candidates, but it is a federal crime to disregard any social media platform's terms and conditions. Conducting social media background checks on your own can lead to legal and ethical problems. So, companies can use a third-party screening company that can provide the information without violating the candidate's privacy while following the laws and regulations.
Tools for Social Media Recruitment
For finding talents nowadays recruiter has to be fast and proactive. Social media is one of the best ways to hire in today's world, and here are some of the tools to help:

What is the Future of Social Media Recruitment?
Recruiting via social media is growing with 84% of organisations using it currently and 9% planning to use it soon. Some studies also reveal that the millennials from the age group of 18-34 are changing the recruiting game by 73% choosing Social Media Recruitment. Many recruiters believe that social media marketing will be the most in-demand HR skills by 2020, followed by Data Analysis and Predictive Modeling.
How Can Employees Amplify the Company's Social Recruiting?
Social Media Recruiting by involving your employees automatically increases the reach for the recruiting process. On average, an employee approximately has around 400 LinkedIn contacts, along with 420 Facebook friends and 360 Twitter followers. So by involving your employees in the process, the engagement rate increases eight times.
Candidates seeking a job want proof before joining the company and when an employee posts about their happy work life, the potential candidate gains trust and is more likely to apply for the job posting.
Key Takeaway on Social Media Recruitment
From recruiting your employees to retention, ensuring they are engaged at every step of the way helps create a highly productive work culture. Social recruiting may be a great match for the requirements of today's job seekers, but to make a uniform culture, employers have to follow up a streamlined recruiting process with meaningful onboarding and a developed retention strategy. You can look at our social media recruiting feature for more info on integrating your social media pages with iSmartRecruit.