As a small recruitment agency, you will have a lot of work and data to manage and at one point you would want a stronger and more reliable tool than just an excel sheet. This is when staffing software seems like a good idea. 
In recent years, technology has created a strong impact on the recruiting process. And, being a reason the recruitment process becomes automated globally, regardless, a heap of recruitment agencies, in-house recruitment, and outsourced recruitment are implementing the best recruiting software and talent acquisition.

The wave of technology consistently upgrades the recruiting software in the convenience of work and tasks. Hiring via recruiting software helped many companies and staffing agencies to hire the best-fitted, qualified, and top talents. Furthermore, avoid hiring the bad ones.

So, here are some reasons to invest in dedicated staffing software for small staffing agencies 
Reasons, Why Small Recruitment Agencies Should Invest in Recruiting Software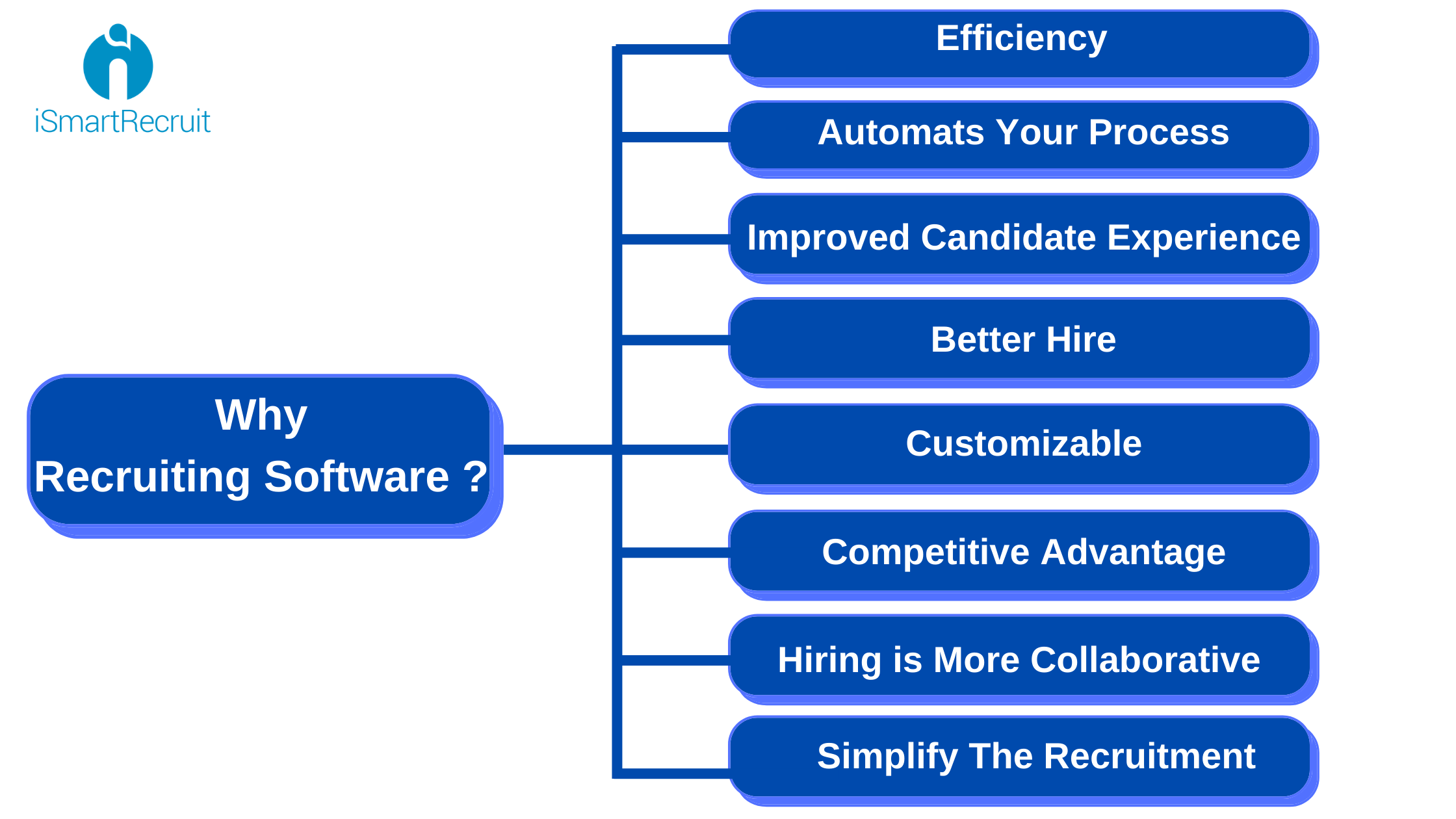 It's Efficiency
Recruiting software is a great way to organize work and get the most efficient results. Instead of dwelling with numerous spreadsheets, staffing software gives you a platform where the recruiter can manage all the data as well as in boxes in one place saving a lot of time.
It Automates Your Process
Recruiting takes up a lot of time and during every recruiting process, the same steps are repeated for every candidate. Doing the same steps again and again manually is not really a great idea and this is where staffing software comes in handy.
Staffing software automates the hiring process and minimizes the time spent on screening resumes, conducting interviews, sending emails, and much more.
Statistics #1:- 75 percent of recruiters and hiring managers, use the recruiting software for the hiring process.
Improved Candidate Experience
Everyone in the recruitment industry knows the importance of positive candidate experience and one way to make sure that your candidate has a good experience is through staffing software. 
It eliminates many hurdles and provides a user-friendly platform for both the candidate as well as the recruiter. It also helps to improve the employment brand and showcase the good image of your company in the marketplace.
Better Hire
A good staffing software has the efficiency to filter out numerous applications and present the best and most suited applicants out of the huge talent pool.

Finding candidates for job positions that are difficult to fill can be a tedious task that can be made easy by staffing software.
Statistics #2:- 78 percent of the recruiters agreed that recruiting software improves the quality of talent they hire.
It's Customizable
The best thing about staffing software is that it is customizable and scalable for the future. Every candidate and recruiter has different requirements and staffing software can be personalized to suit their needs in the best possible way. It will make the hiring workflow better to deliver better results.
Competitive Advantage
Last but not the least, good staffing software gives you a competitive edge over your competitors. A staffing system is also helpful when it comes to smooth and quick communication along with tracking the entire application process. This keeps you ahead in the market.
Statistics #3:- 86 percent of the professional recruiters and managers stated that recruiting software helps them to hire faster.
Hiring is More Collaborative
It takes a team that is well coordinated to complete the hiring process successfully and efficiently. The hiring process is a collaborative task and not a thing that an individual can go through.

Everyone has a different method of working and so to work well as a team, they must communicate well and be organized among themselves and staffing software helps with it. It lets you document the entire process and gives everybody an opportunity to contribute equally. This makes everyone feel valued and keeps them inspired to work.
Save Cost
Most of the staffing agencies belong from small business to mid-business range. And, for this size of the business, it is quite unaffordable to hire full-time recruiters. Recruiters are treated as a normal employee who gets a monthly salary and other benefits from the employer.
By investing in recruiting software, small agencies can save lots of costs that they spend on different work resources. No need to invest in other infrastructure that is required by the recruitment agency, as now the latest technology always be cloud-based software. Moreover, there is also service-based payment, so small agencies can choose the service that they want to use and need to pay only for that. And it is a really cost-saving opportunity. Hence, the expenditure on recruiting software is worth it.
Statistics #4:- A company with eight employees can save $10,000 using a recruiting software
Simplify The Recruitment
The online world is the best place to attract and encourage people to convert into an applicant with minimum effort. And, it becomes more convenient and optimized when the whole process of hiring takes place via smartphones and other similar devices. 
Therefore, by simplifying the recruitment process after implementing the recruitment software, small agencies can reach their vacant to a high volume of people and more effectively attract them to apply for the position. This whole simplified approach will help them to boost productivity and amplify business growth.
Benefit Areas For Small/Startup Agencies By Adopting Recruiting Software
Here is some area that will be converted into the benefit one for the small and startup agencies just by adopting the recruiting software.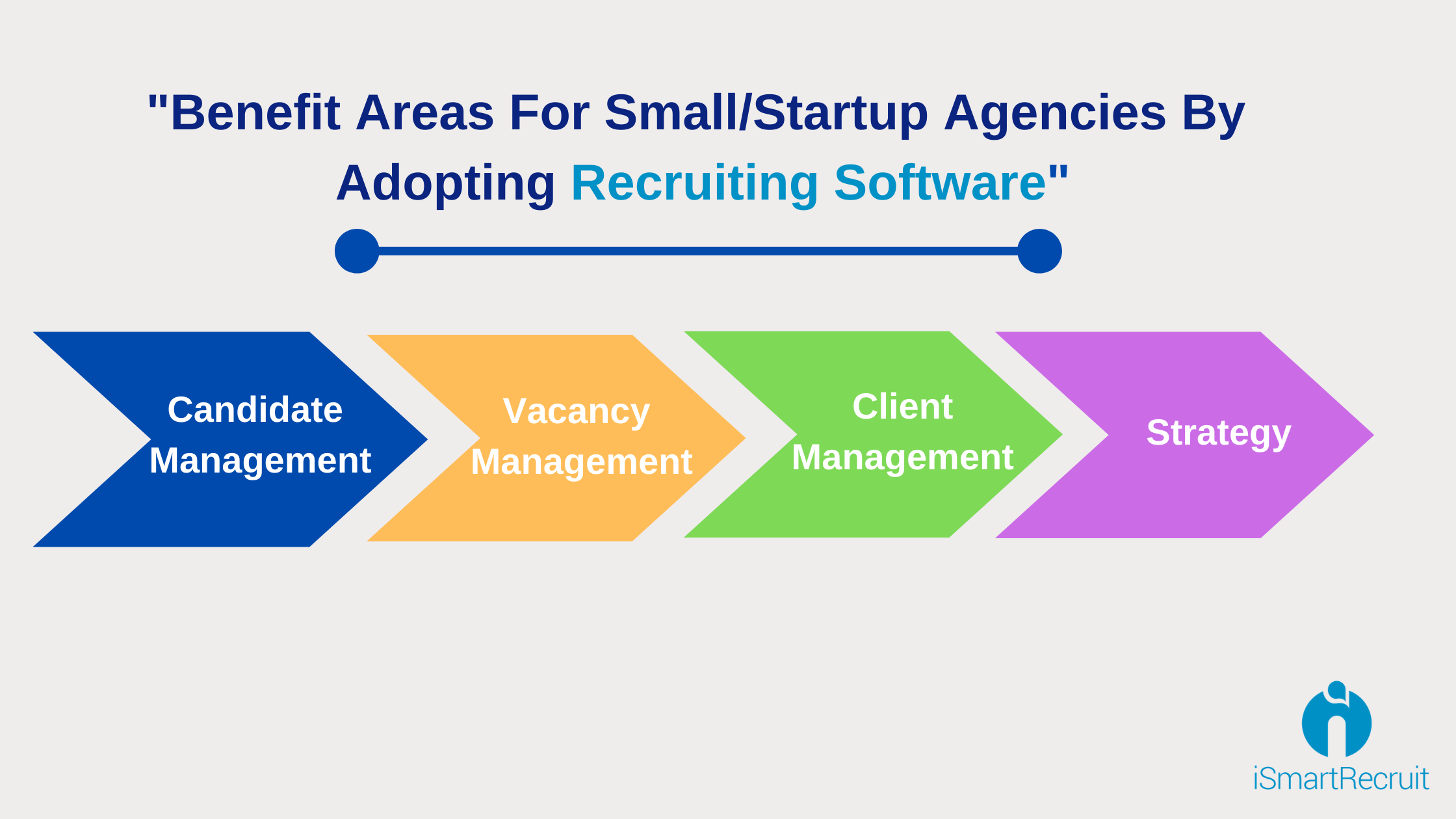 Candidate Management:
Record candidate as well as job applications

Candidate interaction

Candidate searching from pipeline

Matching candidate

Manage CV, and onboarding document

Talent pool collection

Candidate source
Vacancy Management:
Record and manage every job vacancy whether it is a temporary, freelancer, or permanent.

Track the candidate application at each stage

Track the interviews

Record candidate placement

Matching jobs

Easy management of the stages of the positions
Client Management:
Record client interaction.

Maintain the record of client proposals

Produce and send an  email campaign

View client activities and vacancies
Strategy:
Get an insight into the agency projects and tasks

Present the performance and activity of your agency in the visual form.

This visual information helps the small staff to make the right decision

Reports help to know the weakness and strengths of the agency
Small recruitment agencies are able to manage and devote their time toward the business service and easily get an insight into the performance by adopting Recruitment software.
Final Thought
A company's size does not define if a company should or should not have staffing software. If a small recruitment company wants to be a pioneer in the staffing business, staffing software is worth investing in even if you have a small budget.